Around College
Cancer Drug Creator Gives for Research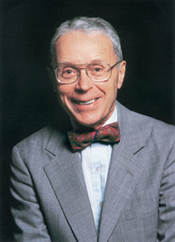 The inventor of one of the world's most effective anti-cancer drugs — who became fascinated with chemistry as a student at Hamilton — has, with his wife, donated $1 million to establish an endowed fund for chemistry research at the College.

Edward Taylor '46 and his wife Virginia have established the Edward and Virginia Taylor Fund for Student/Faculty Research in Chemistry, a $1 million fund to inspire students interested in chemical research and to facilitate their work with outstanding ­faculty. As part of the recently concluded Excelsior campaign, the fund will offer students the opportunity to pursue research in organic chemistry, biochemistry, physical chemistry and other divisions of chemical research beginning this summer.

"Research is the ideal way to become fascinated with chemistry," Taylor says, "and summer programs are especially great for stimulating a student's interest."

When he arrived on campus in 1942 to study in the wartime accelerated program, he chose chemistry, by way of a coin toss, rather than biology to fulfill a science requirement. "I fell for the subject on the first day," he recalls. His professor, Dick Sutherland, was "extraordinary, the best teacher I have ever had. He took me under his wing, and I became fascinated from day one. He practically tutored me."

More than 60 years later, the student who came to Hamilton with dreams of becoming a writer is professor emeritus of chemistry at Princeton University and the inventor of one of the most successful cancer drugs in the world. "I owe my lifelong fascination with chemistry to Hamilton, which is why I gave my gift to the Chemistry Department," he says.

In work that traced back to his Cornell Ph.D. research on folic acid, Taylor discovered a compound that could effectively inhibit the growth of tumors without extensive damage to normal cells. Taylor's Princeton lab didn't have the facilities to transform the compound he had synthesized into an effective drug, so he asked the pharmaceutical company Eli Lilly & Co. for assistance. In 1985 a formal ­collaboration began between Princeton and Eli Lilly; ultimately, Taylor came up with a new ­compound that appeared to be extraordinarily promising, and after 12 years of extensive efforts by Lilly, this compound became the cancer drug Alimta.

The drug has now been on the market for five years and already stands as the most ­successful new cancer drug, in terms of sales, in the history of the pharmaceutical industry. It is approved in 92 countries, including the United States, for both first-line and second-line lung cancer, and is the only drug approved for the treatment of mesothelioma. It is in extensive clinical trials or breast, head, neck and ­thyroid cancer.

In discussing his love of chemistry, Taylor had this ­message for today's Hamilton ­students: "The reason you are going to a liberal arts institution is to take advantage of the variety it offers," he says. "Don't base your course selection on your prior limited experience. Spread your wings. Experiment!"

Around College Section
Cancer Drug Creator Gives for Research