'Working from the top down and the bottom up,' students join forces
Student Involvement
By Phillip J. Hoying '09


Environmental efforts and awareness have been growing among students over the past few years — and unlike the flora at Hamilton, they have not been stunted by cold weather and seasonal snows. In fact, this year in the dead of winter, the annual student-planned winter carnival, FebFest, was themed "Walley Goes Green" in order to promote recycling and environmental consciousness. And FebFest is just one of many student-led greening projects. Thanks to several groups of students, Hamilton is home to an expanding number of activities and events that increase awareness about environmental issues, strive to change wasteful habits, and have a lasting impact on College policies.

Making recycling a habit
One group, the Recycling Task Force, has had an increasingly ­visible presence on campus. With nearly 350 brightly colored recycling stations in place, the group intends to make it easy for students and employees alike to incorporate recycling into their daily habits. For Jen Kleindienst '09, coordinator of the RTF, the key is to clearly convey the details of what can be recycled. "Hamilton is both lucky and unlucky, because Oneida and Herkimer counties recycle more types of items than most other places," she says. "It's good in terms of our recycling abilities, but it also means that it's more complicated because we have to tell people you can recycle this, but not that."

While many students regularly recycle at home, others have never had the opportunity, coming from states that do not recycle. Terry Hawkridge, who as Hamilton's assistant director of grounds, horticulture and Arboretum is the advisor to the task force, notes that "the ingrained values of recycling are either coming to the campus already or have to be made here. We're going to have to work on helping the student body sort their reuse items better." In order to help educate students, the RTF has focused on placing a simple explanatory poster at each station, maintaining an updated and thorough Web site, and working to put lids on every bin at every recycling station.

Seeing such lids — which are intended to decrease cross-contamination — in use at other colleges, Kleindienst believes they have already started to make a difference at Hamilton. She attributes the change to the psychological effect of seeing a slight barrier. "If people see a slot, they are less likely to think they can throw a cup in there, or if they see a small round hole, they less likely to throw garbage in," she says.

Other recent projects led by RTF include a "Can the Can" waste-reduction program that aims to reduce office waste by introducing smaller waste baskets; a sneaker reuse station; a plastic bag recycling station; a book drive (to prevent them from ending up in a landfill); the installation of solar trash compactors; participation in the national RecycleMania effort; and the group's largest event, Ham Cram & Scram. A massive reuse project initiated in May 2008, Cram & Scram is RTF's response to the year-end ballooning of on-campus waste, which averages 60-70 tons per month but spikes to 140 tons in a typical May, when students abandon thousands of items large and small as they pack up to leave campus for the summer.

Collecting and sorting such items, last May's Cram & Scram kept more than 40 tons of usable products out of the local landfill. Three tractor-trailers of dorm items — everything from futons and refrigerators to microwaves and lamps — were stored over the summer, then sold to incoming students in August to help offset costs of the program and provide Hamilton students with affordable furnishings. While it cost Hamilton about $2,000 to initiate the program, Hawkridge believes Cram & Scram will grow to be self-sufficient — and in the meantime, "not sending 40 tons to a landfill makes a lot of green sense to me." A "mini" version of Cram & Scram was held at the end of the fall semester.



A well-grounded sense of green
Hamilton students are also taking the maxim to "eat local" to a new level — they're growing food crops right on campus. Late in 2007, a group of environmentally conscious students came up with the idea of creating a space on the Hill for a Community Farm Garden to grow organic vegetables. Receiving guidance and support from Graduates for a Greener Hamilton, they learned Frank Sciacca, associate professor of Russian, and David Gapp, professor of biology, were also planning a garden, so they teamed up and approached the President's Office with their joint idea. They quickly received financial support, and a ¾-acre plot was picked just downhill of the Ferguson parking lot on north campus.

The first major crop was harvested last summer, sold at a community farm stand and used by food-service provider Bon Appétit and the Woollcott Coop. Andrew Pape '11, one of the organizers who even worked to maintain the garden all summer, called it a "huge success" and sees the garden not only as a food source but as an excellent way to encourage people to consider the environmental costs of shipping food over long distances. "Most people are generally supportive of eating locally, with the caveat being when its convenient," he says. "I think that's something that everybody struggles with. I mean I do myself, too. I like eating bananas, for example, and they don't really grow around Hamilton.

"It's good to have the garden because that gives students a tangible way to connect" to the importance of eating locally, he says. Since "most people don't know where their food comes from, just being able to work in a garden, work with the vegetables, and then at the end of the day harvest them and bring them home to be a part of your dinner is just a really great feeling."

HEAG: 'Connect, collaborate'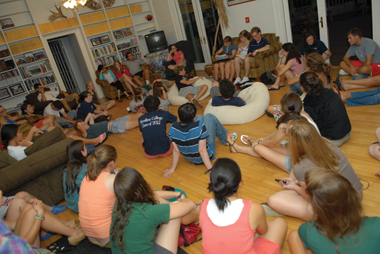 The largest environmental group on campus is the Hamilton Environmental Action Group, which meets weekly to discuss sustainability and ways to raise awareness of critical green issues. The group draws 30 to 40 students to its meetings and has 175 on its e-mail list, says Catie Ferrara '11, who serves as co-president with Jeremy Gleason '11. The group sponsors a campus-wide Green Week each semester, offering films, concerts, campus cleanups, outreach programs and other events. A second major fall event is November's Dorm Energy Battle, in which dorms compete to use energy more efficiently. The competition uses Hamilton's Energy Dashboard (www.hamilton.edu/dashboard), a real-time online measurement of kilowatt hours used by campus buildings.

"We see the competition as a way for students to become aware of and interested in how they use energy," Gleason says. "The incentive to win the competition is a pizza party for the dorm that uses the least energy." In addition, HEAG is working with Bon Appétit to reduce food waste and save water by limiting the use of trays in dining halls; a Trayless Tuesday was introduced this year, with the hope of making it a regular event. And the group has representatives on the College's Sustainability Committee as well as members who work with professors on individual initiatives related to the environment.

HEAG "allows students with like goals to connect and collaborate," Treasurer Heather Parker '11 says, and the fact that it is a student-run group can make it "more effective in engaging students." But it has an importance beyond specific projects and activities. It also provides "an accessible and open forum in which students can toss around their ideas concerning environmental issues and activities," Parker says. In addition, Ferrara notes, part of HEAG's mission is to nurture and advise smaller issue-oriented teams. "We help these students find out who they need to talk to and request funding for projects," she says. "Often, at HEAG meetings, we break up into small groups with specific goals, like reducing energy use in dorms or reducing food waste in the dining halls."

Thinking big by thinking small
Most important to campus efforts, says Jeremy Gleason, is a sense of momentum. "It has been said that in order for a sustainability movement to be successful, the movement in itself must be sustainable," he says. That means "projects and events that keep the ball rolling on environmental awareness." Kleindienst agrees, saying, "I think people are coming around to the idea of recycling and more environmental issues — but there is still a lot of work to do." Most of that work is informing students how and why their actions matter to the environment, Kleindienst says.

Students should "know and understand the importance of the steps they can take to lessen their impact on the environment in their everyday lives," says HEAG's Ferrara. "That said, it is essential to keep students and faculty on the same page about sustainability initiatives and to support students whose interests lie in campus policies." In the end, what Ferrara identifies as HEAG's mission is Hamilton's as well: "to work from the top down and the bottom up — getting students engaged in large-scale policies and raising everyone's awareness of their daily environmental impact."