Al Gore to address Commencement; four to be honored
Al Gore is returning for an encore appearance.
The 45th vice president, Nobel Laureate and author of An Inconvenient Truth, who visited Hamilton in 2007 as part of the Sacerdote Great Names Series, will deliver the address and receive an honorary degree at the College's 199th Commencement May 22.
Also receiving honorary degrees will be Patsy Couper W'44, a longtime benefactor of Hamilton and the wife of the late Richard W. Couper '44, who served the College as acting president and life trustee; Paul Lieberstein '89, Emmy Award-winning co-executive producer, writer and actor in NBC's sitcom The Office; and John Sexton, president of New York University. Sexton will offer the May 21 baccalaureate address.
The best-selling An Inconvenient Truth addresses the threat of and solutions to global warming and is the subject of an Academy Award-winning movie of the same title. Gore was the co-winner, with the Intergovernmental Panel on Climate Change, of the 2007 Nobel Peace Prize for "informing the world of the dangers posed by climate change." With David Blood '81, Gore also helped to create Generation Investment Management, a London-based fund management firm that creates environment-friendly portfolios.

Days-Massolo Center to build campus dialogue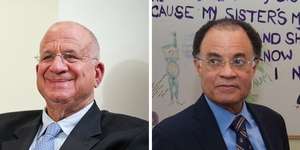 Fulfilling a key pledge in the College's 2009 strategic plan — to create a center to "expand the dimensions of a Hamilton education," one that engages "students and faculty members from all backgrounds in an ongoing examination of their similarities and differences" — the Days-Massolo Center was opened on the day honoring Dr. Martin Luther King Jr. and dedicated during Volunteer Weekend in April.
The center is named for trustees Drew S. Days III '63 and Arthur J. Massolo '64. "Drew Days continues to devote his life to public service and a deeper understanding of social justice and the law, while Art Massolo developed a career working in a global economy in which his command of language and understanding of other cultures became an integral part of his ability to navigate a complex international business world," said Chief Diversity Officer Donald Carter, whose office is in the new center along with the Womyn's Center, a large gathering space, study space, a fully equipped kitchen and other offices. "They share a great love of the College and unfailing support of our community. Both have lived and worked in environments where understanding social complexity was critical to the successful completion of business projects and scholarly works."
"Hamilton's student body is very different from the student body of even 10 years ago," President Joan Hinde Stewart said. "Our College is changing just as society is changing. Establishing the Days-Massolo Center is one way we are responding to an increasingly diverse student body on our campus."
Days went from Peace Corps service to the legal staff of the NAACP Legal Defense and Education Fund before serving as U.S. assistant attorney general for civil rights under President Carter. A member of the faculty at the Yale Law School since January 1981, he took a leave of absence from 1993 to 1996 to serve as solicitor general in the Clinton Administration.
Massolo, also a Peace Corps veteran, spent most of his career at the First National Bank of Chicago, retiring in 1996 and starting Straticon, a consulting company specializing in international strategic planning. While in Chicago, Massolo was on the board and served as president of LINK Unlimited, a mentoring program that provides at-risk inner-city students with private school educations. His affiliation with LINK led him to sponsor a number of students in order for them to attend Hamilton and to establish a scholarship at the College for underprivileged students from the Chicago area who demonstrate promise. The first LINK student to attend Hamilton, Torrence Moore, graduated in 1992 and now serves with Massolo on the Hamilton Board of Trustees.
The Days-Massolo Center is the former Ferry Building on College Hill Road adjacent to the Afro-Latin Cultural Center and across the street from the Sadove Student Center.

Paganelli '12 mourned on Hill
The death of Alexander Paganelli '12 as finals week concluded and winter break began cast a dark shadow over the holiday season for Hamiltonians on and off the Hill.
Paganelli died Dec. 19 as a result of injuries sustained days earlier in a car accident near his home outside Boston. He had just returned from a semester abroad on South Caicos Island with the School for Field Studies, focusing on marine biology. A chemistry major and a member of Hamilton's varsity lacrosse team, he was the son of Paul Paganelli '77 — chief of emergency medicine at Milton Hospital in Massachusetts and himself a former lacrosse player — and Kerry O'Brien of Dover, Mass.
"He was one of those kids," Coach Scott Barnard told John Pitarresi '70, a Utica Observer-Dispatch sports columnist who wrote eloquently of Paganelli in the paper's Jan. 8 edition. "He said 'Coach, you put me anywhere on the field. I'll take on any responsibility you want.' An outstanding kid. His commitment was terrific."
Barnard and most of his team, along with a number of Hamilton administrators, were among hundreds who attended a December 22 memorial service in Dover. It was followed by a campus service Jan. 31 at the Chapel, which was packed with members of the Hamilton community. "As bad as this loss is," Father John Croghan told mourners, "may it teach us something — that each person you know, each person on this Hill, they have been given to us to learn from." (See obituary, page 78.)

Patrick Reynolds to be dean of faculty
Adding to his résumé as an accomplished Irish fiddler and vice president of academic affairs, Professor of Biology Patrick Reynolds has been appointed dean of faculty.
Reynolds has been serving in that position on an interim basis since the departure last summer of Joe Urgo, who left Hamilton to assume the presidency of St. Mary's College of Maryland. As dean, Reynolds will lead the 184-member faculty and oversee the College's academic affairs, including its programs in Beijing, Madrid, Paris, Washington, D.C., and New York City. He also will oversee numerous academic offices and centers, including Burke Library, the Registrar's Office, the Physical Education Department and Athletics, Emerson Gallery, the Arthur Levitt Public Affairs Center, Opportunity Programs, the Nesbitt-Johnston Writing Center, the Oral Communications Center and the Quantitative Literacy Center.
"Patrick Reynolds' deep knowledge of Hamilton's academic program and his strong advocacy for the faculty make him ideally suited to address academic issues currently being examined at the College," said Jaime Yordan '71, who served on the Selection Committee and chairs the Trustee Committee on Instruction.
The first in his family to go to college, Reynolds earned his Ph.D. from the University of Victoria in British Columbia in 1991 and joined the Hamilton faculty the following year. He is an expert on marine invertebrate biology, particularly the evolution of molluscs, a group that includes snails, clams and squid. He is widely published and served as editor for 12 years — and editor-in-chief from 2004-2009 — of Invertebrate Biology, an international journal of the American Microscopical Society; he was recently named president-elect of that organization.
"Hamilton is a national leader in liberal arts education," Reynolds said. "My ambition is to sustain and strengthen that leadership, especially through our academic support for our students, the co-curricular programming that so enriches our campus life, and the teacher-scholar model of faculty vocation that nourishes and invigorates our curriculum."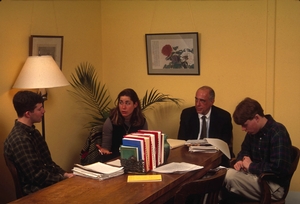 Hamilton remembers Bahlke, who died Feb.1
Professor of English Emeritus George Bahlke, 76, who joined the Kirkland College faculty just a year after Kirkland's opening and taught on the Hill until 2006, was mourned this spring by the College and community after dying Feb. 1 of complications from pneumonia. (Full obituaries for Bahlke and for Professor of Biology Emeritus Eugene Putala, who died April 1 as the Alumni Review went to press, will appear in the next issue.)
"The world is surely a better place for George Bahlke having been in it," wrote Julie Weinstein K'75, one of many friends and former students to share memories of Bahlke on the Web. "His seminars were among the most memorable of my Kirkland experiences. He inspired me to find more within myself than I knew was there."
A specialist in 20th-century British and Irish literature — particularly the work of Virginia Woolf, D.H. Lawrence and E.M. Forster — Bahlke was the first recipient of the Class of 1962 Teaching Award. "George was warm and caring," President Joan Hinde Stewart told the Hamilton community. "He created an engaging and intellectually challenging environment in his classroom." He also remained a lifelong student, attending Latin and Greek classes on the Hill until just days before his death.
A memorial service was held April 2 at St. James Episcopal Church in Clinton. Those wishing to make a contribution in his memory may donate to the George Bahlke Travel Fund, established by Bahlke's wife Felicity Colby and his family and friends at the time of Bahlke's 2002 retirement. The fund provides support for "faculty travel for scholarly purposes, as it relates to the study and teaching of the humanities at Hamilton College."

Rosenbaum '14 swims to U.S. title
Maggie Rosenbaum '14 was crowned national champion in the 100-yard backstroke at the Division III swimming and diving championships March 25 at the University of Tennessee, becoming the first Hamilton women's swimmer to capture an NCAA title. Rosenbaum's time in the evening championship finals was 55.21 seconds, .59 ahead of the second-place competitor; in the morning preliminary heats, Rosenbaum broke her own school record in the event for the third time in two days with a time of 54.79 seconds.
In addition to her All-America award, Rosenbaum earned two honorable mentions at the national meet, and Megan Gibbons '12 joined her with three honorable mentions (she now has four overall), breaking her own program record in the 100-yard freestyle with a time of 51.43 in a preliminary heat and ultimately finishing tied for 15th overall in the event with a 51.74 in the finals.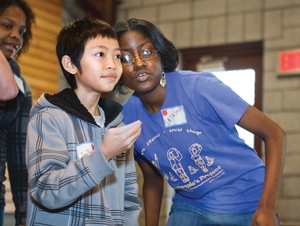 Math Bash adds up for Hill, Utica youth
The Hamilton-based Young People's Project tutors children at Utica's Donovan Middle School in math literacy several days a week, but YPP also makes sure that math doesn't turn into all work and no play. So it is also hosting a regular Math Bash series on the Hill, combining numbers-based games, contests and a lunch to make certain that Donovan students remember the most fundamental equation of all: Math is fun.
"There is nothing more rewarding than seeing the kids you have worked with all semester apply what they have learned," says Leide Cabral '11, Hamilton's YPP site director, who helped model the organization and its work on The Algebra Project created by civil rights activist and educator Bob Moses '56.
Like Moses, Cabral and her peers are out not just to teach fundamental math skills, but also to change perceptions. One of the YPP's most difficult tasks, she says, is dealing with parents and teachers who think the children have no hope of learning math. "We work very hard to change this kind of 'can't do it' mentality, and we really try to show the kids that they can do anything if they work at it," she says.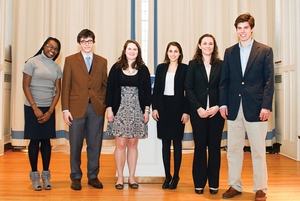 Six awarded prizes in public speaking
Upholding a tradition that reaches back to the rhetoric and elocution training of the College's earliest decades, 17 students competed at the Chapel in the finals of the annual Public Speaking Competition in March, and six prizes were awarded across three categories.
The McKinney Prize in persuasive speaking: Jessica Moulite '14, "Electronic-Tile Dysfunction"; Chip Sinton '13, "Bruises, Blood and the American Way: Troubled Teens or a Troubled Nation?"; Jen Keefe '12, "The Problem with Ke$ha: How Major Label Recording Artists Ruin Music"; and Rachel Pohl '11, "The Moment Itself."
The Clark Prize, addressing the topic of sports, ethics and accountability: Mallory Joel '11, "Top-Down Ethical Responsibility in Regard to Football Brain Injury."
The Warren E. Wright Prize in informative speaking: Ben Dropkin '11, "Balancing Social and Financial Incentives."
— Contributing: Holly Foster, Vige Barrie, Mike Debraggio, Ian Thresher '12, John Wulf '12