Alumni Review - Spring 2012
Around College
Director named for new Wellin Museum of Art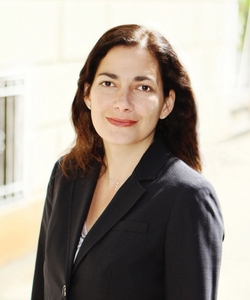 Tracy Adler, former curator of the Hunter College Art Galleries in New York City, has been named inaugural director of the Ruth and Elmer Wellin Museum of Art. The appointment is effective July 1. Construction of the Wellin Museum, at the western entrance to the Hamilton campus, is scheduled to be completed in August.

"Tracy Adler shares our enthusiasm for this building and its mission, and she has the knowledge, experience and energy to make the Wellin a focal point for the arts at Hamilton, in the region and beyond," President Joan Hinde Stewart said in announcing the appointment.

"I think it is significant that at a time when many educational institutions are increasingly focusing on vocational skills, Hamilton is investing in the arts," Adler said. "Exposure to the arts is integral to a liberal arts education and instrumental in teaching students to think and solve problems creatively.

"The Wellin Museum of Art offers a blank slate, providing an opportunity to build museum programming from the ground up. I envision the Wellin serving as a new model for the museum of the future and setting an example for how a college art institution can be perceived in the broader world."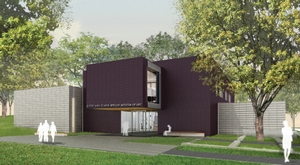 As operational director of two galleries at Hunter College for 13 years, Adler oversaw 125 modern and contemporary art exhibitions, as well as other shows featuring medieval reliquaries, Islamic art objects, French manuscripts and mannerist drawings. She is the author of numerous catalogue essays, has edited a broad range of arts publications, discussed career development and exhibition presentations with artists and other art professionals, and has served as juror for various competitions and residencies. Throughout her time at Hunter, she worked closely with faculty and students to prepare and mount exhibitions.

Construction of the Ruth and Elmer Wellin Museum of Art was made possible by a $10 million lead gift by 1950 Hamilton graduate Keith Wellin and his wife Wendy. It is named in honor of Mr. Wellin's parents.
Hill, alumni in mourning for Joshua Hicks '09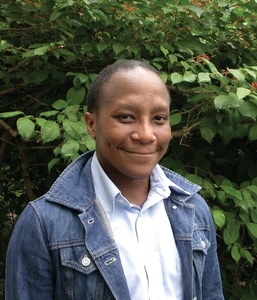 Joshua "Jicks" Hicks '09, who was a student at Gordon-Conwell Theological Seminary in Massachusetts after earning a degree in religious studies at Hamilton, is being remembered by classmates, teachers and friends following his death April 6. President Joan Hinde Stewart called him "a wonderful young man of great personal warmth and a talented singer," recalling that "he sang on the first occasion when we met: at matriculation in Kirkland Cottage."

Online, dozens of Hamiltonians paused within days of his death to express grief and give thanks for time shared with Hicks, a Boston Posse student who distinguished himself as a Buffer and a member of the Choir and ELS. "Jicks brought people together just by entering a room," wrote Alison McLaughlin '11, and Taylor Burt '08 spoke for many in observing, "It is a loss for everyone to have such a radiant man taken from the Earth. Jicks, we'll miss you deeply."

A full obituary will appear in a later issue of the Alumni Review.
Trustees to consider campaign wrap-up
When the Bicentennial Initiatives campaign was launched in 2010, the Hamilton community faced a daunting challenge: to raise $117 million for three crucial campus needs despite an economy in turmoil and a record-setting $183 million Excelsior campaign that had concluded just two years earlier.

But Bicentennial Initiatives did not merely hit its mark; it did so 16 months ahead of its scheduled June 2013 conclusion.

"Our alumni, parents and friends have responded generously to Hamilton's three most pressing needs," said Jeff Little '71, chair of the campaign and vice chair of the Board of Trustees, when the campaign reached its goal in March. "Achieving this level of success, in the midst of this economy, speaks to the loyalty of our constituents and their understanding of how important these priorities are to Hamilton's future."

Bicentennial Initiatives was launched to provide:
$40 million for endowed scholarship aid as part of the College's need-blind program;
$35 million for new facilities for Hamilton's theatre and studio arts programs; and
$30 million in unrestricted support for the Annual Fund.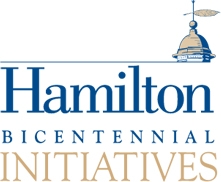 Even though the $117 million target has been reached, individual goals for those three priorities have not yet fully been met because some donors have directed their gifts toward other important needs on campus.

The campaign went public in December 2010 with $70 million already raised, meaning an additional $47 million had been paid or pledged as of March. Gifts to the campaign included the largest contribution in the College's history, $16 million from the SunUp Foundation for scholarship aid, faculty research and new arts facilities. Hamilton alumnus Edward Taylor '46 and his wife, Virginia, are directors of the foundation.

Hamilton's Board of Trustees will decide in June whether to raise the campaign goal and continue until its planned concluding date.

A.G. Lafley to give Bicentennial address
"What Makes a Legend Tick?" That was the question posed by Adweek as it inducted A.G. Lafley '69 into the Advertising Hall of Fame in March. The Class of 2012 has an opportunity to hear the answer firsthand May 20 when Lafley — chair of Hamilton's Board of Trustees and former CEO of Procter & Gamble — delivers the College's Bicentennial Commencement address in the Margaret Bundy Scott Field House.

Lafley, whose focus on consumer needs has been credited with a resurrection of Procter & Gamble that "doubled its sales and quadrupled its profits," according to Adweek, has been honored as one of America's Best Leaders by U.S. News and World Report and as CEO of the Year by Chief Executive Magazine. He is one of five luminaries being awarded an honorary degree at Commencement; the others are renowned author Peter Cameron '82; Geoffrey Canada, CEO of the Harlem Children's Zone; Letitia Chambers, executive director of the Heard Museum; and Eugenie Havemeyer, a life trustee of Hamilton College and founding trustee of Kirkland College. Canada will offer the Baccalaureate sermon on May 19.

A class of 467 students is expected to receive degrees during Hamilton's Bicentennial year. That's 461 more than were granted the parchment at the College's first official Commencement ceremony in 1815.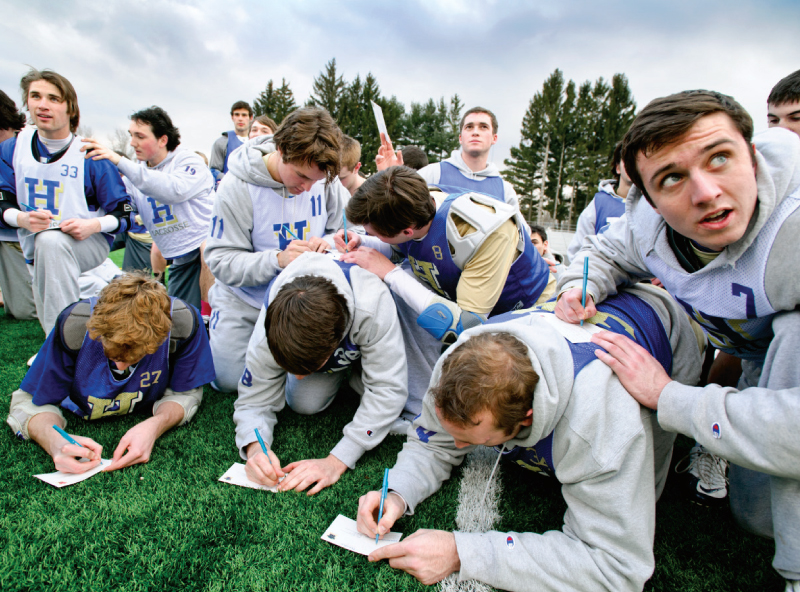 Members of the men's lacrosse team take time out at practice on STOP Day to fill out thank you cards to College donors. (For more on the day and its meaning, visit www.hamilton.edu/stop.)
STOP
Feb. 23 was a day to stop — make that STOP — and think, but it was also the start of something new. The Hill's first STOP Day marked the calendar date when tuition stops covering the cost of a Hamilton education and others — alumni, parents and friends — begin to pick up the tab through their gifts to the College. The message behind the acronym: Starting Today, Others Pay.

STOP Day began with a presentation by Vice President of Administration and Finance Karen Leach, and ended with remarks by John Werner '92, founder and managing director of Citizen Schools, about the importance of philanthropy. In between, in the Kirner-Johnson atrium, on athletic practice fields and even on team buses, large groups of students joined in writing thank-you postcards to donors throughout the day. More than 2,000 cards were collected during a day of events organized by the Hamilton Alumni Leadership Training Group and the Senior Gift Committee.

Many students did not know that income from tuition, room and board provides only 65 percent of the cost of a Hamilton education. The difference — a full 35 percent — is made up with contributions and income from the College's endowment. STOP Day — previously marked as the "Power of Many" — is being celebrated to bring attention to the critical importance of such gifts. More than half of Hamilton's alumni contribute to the College each year through the Annual Fund, placing Hamilton in the top 1 percent of all colleges nationally for alumni support.

"As a student, I was not truly aware of the momentous impact the Annual Fund and each donor has had on my education," said Antonia Villa '12. "Without the generosity of the alumni, parents and friends, Hamilton College would not be the same place we have all grown to know and love."

The novel event drew coverage from The Chronicle of Higher Education, and Chronicle reporter Beckie Supiano interviewed another student who saw the practical implications in giving back: "Down the road, he said, his résumé will be judged by Hamilton's current reputation, not by what it was when he enrolled. That means donating to the College can boost the value of his own diploma."

Mock Trial team makes strong case
Though only a decade old, Hamilton's Mock Trial team is offering irrefutable evidence that it is now one of the nation's best.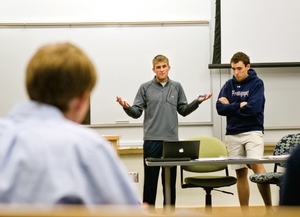 The team advanced to the national championship tournament at Hamline University in Minnesota in April, the College's first Mock Trial competitors to do so since the team was founded in 2002. Captained by Tyler Roberts '12, the team qualified for the national tournament by finishing third in the Opening Round Championship Series in March — a competition in which Roberts won an Outstanding Attorney award and Patrick Bedard '14 won an Outstanding Witness award.

"While we were disappointed with our finish at the National Championship Tournament, we were thrilled to qualify," Roberts says. "Given our school's small size, our lack of a coach and lack of a law school, just earning a bid to the national championship is a tremendous accomplishment. We had a couple of clean trials at the tournament and just faced some really strong teams. I am proud of our performance this year and am excited to see if the team can build on it in the future."

The third-place ORCS finish built on the team's appearance in that series in 2010 and distinguishes Hamilton as one of the nation's top 48 mock trial programs of the 654 that competed this year.

Past Mock Trial team members, by the way, will have plenty to celebrate during Reunions '12, when they gather June 1 at 5 p.m. at the Azel Backus House to mark 10 years of competition.
Six win awards in public speaking
Hamilton's history of distinction in elocution and rhetoric found its annual voice this spring as 18 finalists met in the Chapel to compete across three categories in the annual Public Speaking Competition.

Six prizes were awarded:
The McKinney Prize — awarded to one student from each class for a persuasive speech socially relevant and of interest to the extended Hamilton College community — was presented to Daniel Savage '12 for "Citizens United's Threat to Our Democracy"; to Chip Sinton '13 for "The Beautiful Fact of Being Human: Prismatic Identity, Social Media and the Importance of Transitional Pioneers"; to Max Schnidman '14 for "Protecting the Internet from Smooth Criminals"; and to Sandy Rao '15 for "Speaking to the Heart."
The Clark Prize — awarded to a member of the senior class for addressing an assigned topic through both written and oral presentations — was presented to Leonard Teng '12. This year's topic asked seniors to identify key issues in the upcoming presidential election that would attract the largest number of voters between the ages of 18 and 25.
The Warren Wright Prize in informative speaking — open to students who have enrolled in the College's public speaking course — was presented to Ephraim McDowell '12, whose topic was "Mass Incarceration: The American Prison Boom and Its Effects."

Hoopla on the Hill: Linsanity arrives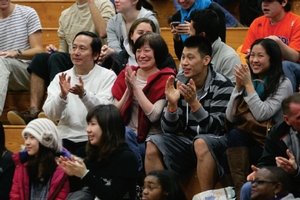 If you were a hoops fan camping out on Planet Earth in February, you no doubt came down with at least a brief case of Linsanity — a mild-to-intense euphoria induced by the completely unexpected success of an erstwhile NBA journeyman named Jeremy Lin. Catching a cup of coffee with the New York Knicks after brief stops with Golden State and Houston, the 23-year-old undrafted Harvard grad captivated the basketball world by raising — and raising — and raising — his game when injuries and ineffectiveness shoved him into the starting lineup.

Lin led the woebegone Knicks back into the playoff hunt with a seven-game winning streak in which he put up All-Star numbers — he dropped 38 on Kobe and the Lakers — while sleeping on one brother's couch. During the run, he also made the time to stop by the Margaret Bundy Scott Field House Feb. 12 to watch his other brother, Joseph Lin, a first-year guard for Hamilton, help defeat Bates 72-62. Linsanity was such that the side trip was documented not only by John Wulf '12 for ESPN.com — who captured the action and the buzz with wit and humor from the concession stand where he was working — but by the New York Post as well.

"If you thought his alma mater Harvard was small-time basketball, this was as obscure as it gets," wrote reporter Marc Berman — who added injury to insult by missing the final score by a point. Perhaps Berman's editor needs to explain to him who founded the New York Post.

They're No. 1, and No. 1, and No. 1
Hamilton alumni put together a remarkable Trifecta over three weeks in February, taking home three of the most coveted honors in their fields.

The hot streak began on Feb. 5, when Sean Ryan '94 won his second Super Bowl ring in four years with the New York Giants. As receivers coach this time around — in 2008 he was offensive quality control coach — he saw his charges play a crucial role as the Giants again beat the New England Patriots, 21-17. A few weeks later he was promoted to quarterbacks coach, a position in which he'll work with Super Bowl MVP and Giants mainstay Eli Manning. "I'm excited about Sean Ryan," Manning told The Associated Press. "He's a guy that's been in this system, worked his way from the ground up and spent two years with the receivers. He's a young guy who is energetic. He's driven to continue to learn."

Nat Faxon '97 followed on Feb. 26, earning an Oscar for Best Adapted Screenplay at the Academy Awards. The theatre major and co-founder of the Bobby Peru comedy troupe shared his award with co-writers Alexander Payne and Jim Rash for their work on The Descendants, adapted from a novel by Kaui Hart Hemmings. The film, which also won two Golden Globe Awards and was nominated for a total of 10 Oscars and Globes, stars George Clooney as a man working to reconnect with loved ones and deal with a family land trust in Hawaii after his wife is left comatose by a boating accident. Stephan Lee of Entertainment Weekly praised the adaptation, saying it "streamlined Hemmings' work with a light hand."

The day Faxon grabbed his statue, Mark Sullivan '80 rose to the top of yet another distinguished heap — The New York Times Best Seller list. Sullivan and genre-writing veteran James Patterson rose to No. 1 on the hardcover fiction list (posted online Feb. 26 for the March 4 Times Book Review) with Private Games, which follows private investigator Peter Knight as he tracks a murderer who is trying to destroy the London Olympics. Bookreporter.com's take: "Mark Sullivan, a renowned author with several acclaimed thrillers to his credit, assists Patterson in the writing of this thrill-a-minute, plot-driven story full of twists and turns." (Pssst: The paperback's due July 3.)
Return to Top