Illuminating Asia
By David Chanatry '80
At Commons dining hall, Tuesday night is Chinese night. Not the menu — that's the standard college fare — but the conversation. All four tables on the mezzanine are reserved for speakers of Mandarin Chinese.
On an evening in February, the weather outside is typical: frigid, windy, with two feet of crusting snow on the ground. "We're talking about how to say 'feels like,'" Brianna Felton '09 explains to a visitor. "It's minus 2 but feels like minus 24. How do you say 'feels like' in Chinese?" The conversation quickly moves on to allergies, the virtues of soy milk and, punctuated by laughter, who is going out with whom.

Every word is in Chinese.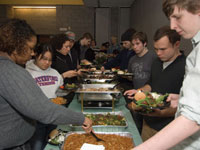 One table over, Ben Freeman '10 is sitting with William R. Kenan Professor Hong Gang Jin and her daughter. Freeman is only in his second semester studying the language, but while he chomps on a baloney-and-cheese sandwich he keeps up with the conversation about a video project he's doing for class, only occasionally slipping into English.

Language is a centerpiece of Hamilton's broad and innovative approach to the study of Asian cultures, and the Chinese table is one of its most visible components. Over the course of 90 minutes, dozens of students come and go, all of them speaking Mandarin. It's a remarkable display of linguistic skill and a testament to the passion and pedagogy of Jin, professor of East Asian languages and literatures, director of the Associated Colleges in China program and the CASE national professor of the year in 1998.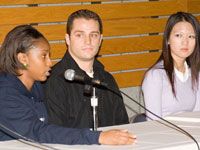 It is also a dramatic demonstration of Hamilton's foresight in preparing its students to engage with the world's new economic and geopolitical realities. On a campus of fewer than 1,900 students, the College boasts both the East Asian Languages and Literatures Department, with its Chinese major and Japanese minor, and the Asian Studies Program, which takes a multidisciplinary approach to the culture, politics, arts and history of the region. With Asia in ascension, it is becoming clear that Hamilton has done its homework. "In truth, these two programs are interdependent," says Lisa Trivedi, associate professor of history and new faculty director of the New York State Independent College Consortium for Study in India. "Study of language without culture won't prepare a student to be successful in Asia, and study of culture without language will be equally limiting."

'You cannot not pay attention'
William R. Kenan Professor of Chinese Hong Gang Jin and Professor of East Asian Languages and Literatures De Bao Xu have developed an innovative methodology that uses different strategies for each distinct stage of learning. More ...