Kosgei '10 is named Track Athlete of Year
Peter Kosgei's record-breaking indoor track season was rewarded with the NCAA Division III Indoor Track Athlete of the Year Award in March, along with a "Faces in the Crowd" appearance in Sports Illustrated. But with an even more emphatic performance in the recent outdoor season, Kosgei is no longer in the crowd at all. He's way out in front of it.
Dominating at distances from 800 to 5,000 meters, Kosgei '10 was named 2008 NCAA Division III Men's Outdoor Track Athlete of the Year in May by the U.S. Track & Field and Cross Country Coaches Association. The Kenya native finished first in both the 3,000-meter steeplechase and the 5,000-meter run at the Division III outdoor championships at the University of Wisconsin-Oshkosh May 23 and 24. He defended his 2007 title in the steeplechase and broke his own facility record in the event with a time of 8:55.19. Those performances gave him four national titles in a single year.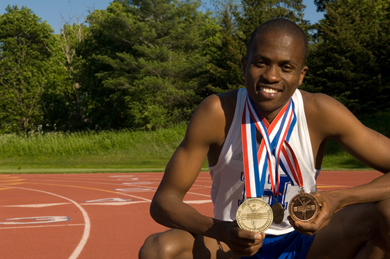 Peter Kosgei '10 won four national Division III titles during the year's indoor and outdoor track seasons.
Called by John Pitarresi '70, sportswriter and columnist for the Utica Observer-Dispatch, "with little question the most accomplished track athlete in Continental history," Kosgei also posted a school-record time of 8:43.78 in the steeplechase at the Penn Relays on April 24. That time is almost 21 seconds faster than anyone else in Division III and is one of the top 10 times in the entire NCAA this year. Additionally, Kosgei set a program record in the 5,000 with a time of 14:30.35 on May 8. He also set team records in the 800- and 1,500-meter runs this season.
Kosgei finished first in every race this spring but one — the steeplechase at the Penn Relays, where he was the sole Division III athlete and still finished second. "I was kind of nervous, but I let my mind control my body," he says. "I went out hard and did my best."
Kosgei won the 800 and the 1,500 at the New England Small College Athletic Conference championships held at Hamilton in April. He broke meet and facility records in the 800 with a time of 1:50.62. His winning time of 3:51.41 in the 1,500 established meet and facility records as well. Kosgei was one of two male athletes selected for the Sebasteanski Award as the most outstanding performer of the conference meet.
Asked about the key to balancing academic work and training, Kosgei — who began running competitively only in 2006, when he arrived in the United States — says, "The most important thing is sleep. You must get enough sleep to perform well academically and athletically. Otherwise, it's just going to crash.