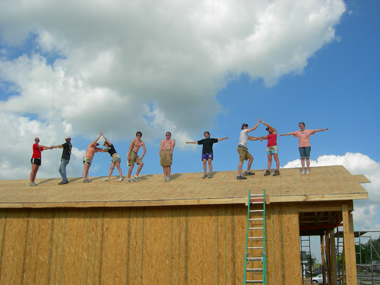 When spring break is more than a party
Born of a hurricane in 1993, the College's Alternative Spring Break marked its 15th year in March with a full-fledged volunteer outreach program in which students blazed trails in rural Tennessee, joined rebuilding projects on the Katrina-ravaged Gulf Coast and volunteered with needy families and refugees in Utica.
One of about 70 Hamilton students to participate this year, Kevin Rowe '10 spent a week in Biloxi, Miss., preserving live oaks damaged by Hurricane Katrina in 2005. "They are really important to the ecosystem of the coast and a first line of defense against strong winds," he told his hometown newspaper, the Grand Rapids, Mich., Cadence. Rowe also told the Cadence that the trip had provided a lesson in "race relations, power relations and wealth relations," noting, "It's astounding how far we still have to go in relief efforts." Rowe served as part of the Hands On Gulf Coast team, which numbered 10 Hamilton students among 150 college students from around the nation who worked on a variety of construction and conservation projects.
Four students stayed close to home for their spring break service, working at nonprofit agencies in Utica through the Urban Service Experience program. They volunteered at Thea Bowman House, JCTOD Outreach and Y-Girls, in addition to creating welcome baskets for new refugee families through the Refugee Center. According to Chrystal Pridemore, Hamilton's VISTA coordinator and Cornhill Outreach/Bonner Leader coordinator, "Providing extra hands to care for children ages 18 months to 6 years and after-school programs kept us busy, and conducting interviews at the JCTOD Outreach transitional housing program altered our lives.
"We interviewed four women who told us their stories of life before drugs, the process of ­getting addicted and life on drugs and then getting their lives back on track, overcoming impossible odds and regaining custody of their children," Pridemore said. "It was very inspiring, and the interview transcripts will be used by the agency to tell the story of what they do and how it makes a difference in women's and children's lives."
Other Alternative Spring Break efforts included:
Cumberland Trail, La Follette, Tenn.:
Ten students helped build trails and perform maintenance along the Cumberland Trail, a Tennessee State Scenic Hiking Trail and state park that includes a corridor of more than 300 miles of trail.

Habitat for Humanity, John's Island, S.C.:
Twelve students helped build a Habitat for Humanity house here, one of more than 230 homes the organization has raised in 30 years in the Sea Islands of South Carolina. Habitat for Humanity International is an ecumenical Christian ministry dedicated to eliminating poverty housing.
Burgaw Elementary School, Wilmington, N.C.:
Ten Hamilton students worked in this outreach program to help students with homework and participate in after-school activities.

Land Between the Lakes, Golden Pond, Ky.:
Land Between the Lakes is a 170,000-acre national recreation area in Western Kentucky and Tennessee. Volunteers helped with the maintenance of an 1850s working farm by doing repairs and building fences.

Habitat for Humanity, ­Thibodaux, La.:
Students helped build another house with the Bayou Area Habitat for Humanity, working side-by-side with the family who will live in the house.
From its start as a relief response by the Hamilton Action Volunteer Outreach Coalition and 20 students after Hurricane Andrew ravaged Miami in 1993, Alternative Spring Break has evolved into a separate student organization that runs the program and its six trips each year with Hamilton's chaplaincy.