Around College
Time: Walker '62 Among Top Envoys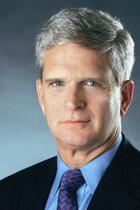 Edward S. Walker, Jr. '62, the Christian A. Johnson Distinguished Professor of Global Political Theory, was recently cited by Time magazine as "among the finest American diplomats to have served in the State Department." It's not unusual for the 35-year diplomatic veteran to be recognized for his wisdom and experience in international affairs, especially in Middle Eastern matters. He has served as U.S. ambassador to Israel (1997-1999), the Arab Republic of Egypt (1994-1997) and the United Arab Emirates (1989-1992), as well as deputy permanent representative of the United States to the United Nations (1992-1993). In the course of his career, Walker has worked with every Israeli Prime Minister since Golda Meir, with Presidents Anwar Sadat and Hosni Mubarak of Egypt, with Presidents Haffez Assad and Bashar al-Assad of Syria, with King Fahd and Crown Prince Abdullah of Saudi Arabia and with Kings Hussein and Abdullah of Jordan, among others.

Time was on this occasion, however, referring to an open ­letter to President Obama that Walker had written with three other Middle East experts and former ambassadors — Robert Pelletreau, Samuel Lewis and Thomas Pickering — for the Israel Policy Forum, an ­organization that promotes U.S. diplomatic engagement in the region. Time reporter Scott MacLeod's piece was titled "Wise Men to Obama: 'We Stand With You.'"

In their letter, the four statesmen expressed their conviction that a two-state solution for the Israelis and the Palestinians is the formula that "both advances America's interests in the entire Middle East and is the best achievable means of ensuring Israel's survival as a Jewish state and a democracy."

Walker has been asked to share his perspectives on President Obama's recent trip to the Middle East by major media outlets, including Bloomberg News, CBS, the BBC and Minnesota Public Radio. In addition to the letter to the president for the Israel Policy Forum, Walker's opinions have also appeared recently on the op-ed pages of The Boston Globe, The Atlanta Journal-Constitution and the Common Ground News Service. The crisis in Gaza at the beginning of the year also ­generated calls for his comments from the BBC, CNBC, CBS and The Economist. Israeli Prime Minister Benjamin Netanyahu's formation of a coalition government triggered additional media requests for Walker's thoughts, including from The Wall Street Journal.

While much of Walker's work focuses on policy analysis, he also underscores the strategic and symbolic importance of communication. "Obama's message should not be targeted to specific leaders or to any one country," he wrote in a Common Ground News Service op-ed piece appearing in Middle East Online (www.middle-east-online.com) on the eve of the president's June visit to Cairo. "His message should target those who have lost faith in America over the past decade. His objective should be to start to restore that faith." Clarity, too, is crucial: "No matter how eloquent the speech is, careless terminology can undercut the intended message, particularly when translation is involved," Walker wrote. "Today we sometimes fail to make a clear distinction between the words 'terrorist' and 'Islamist,' for example. We would do well to remember that a 'fundamentalist' is not by definition a 'terrorist.' If Obama wants to get his point across he must be very careful not to confuse devotion with deviation."

Around College Section
Time: Walker '62 Among Top Envoys