'We are asking more of these young men'
George Allen is the second member of his family to graduate from ABC and Clinton High School. His older brother, Xavier, says anyone who contacts him about the program would be reaching out to a proud ABC alumnus and ambassador. "Even though I had much uncertainty and doubt being five hours away from home at the young age of 14," Xavier says, "in hindsight it is the best decision I have made thus far in my 23 years of living."
He agrees the transition period, both socially and academically, was rough for him in 2003. "But once everything began to click, it turned into an amazing experience. I was a three-sport varsity athlete participating in football, basketball, and track and field," he says. "I graduated in June of 2007 and was the class speaker, as my class of 127 and I journeyed out into the real world."
"There are struggles along the way, in this 'foreign' environment," Asu agrees. "We are asking more of these young men than is asked of most high school students. But they succeed."
"In the first couple of years I had to build up on my responsibility as I got older, same as my brother," George Allen says of his own ABC years. "There weren't any difficulties getting used to Clinton, since I already knew the surroundings since my brother came here."
Xavier attended Drexel University in Philadelphia and recently earned a B.S. in business administration with a concentration in finance. This spring he continued his job hunt for full-time employment in management consulting or investment management. "I owe a lot of the man that I have grown into to Clinton Senior High School and the loving people of that community," Xavier says in retrospect.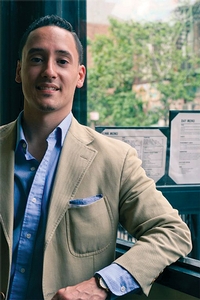 Other former ABC scholars also wax poetic about their participation. Vladimir Rodriguez, 27, of Brooklyn works for New York Life as a financial services professional and executive recruiter. An ABC scholar from 1998 to 2002, he credits his success to ABC and his 2006 degree in public policy from Hamilton. Rodriguez says he plans to stay at New York Life and work his way up through corporate management. Meanwhile, though, he has also co-founded, with Hamilton classmates Tom Booth and Ben Preston-Fridman, the Buffet of the World, a company that manufactures sustainable products such as reusable canvas totes and T-shirts.
"The ABC program opened up awareness and areas for a successful career afterward," he says. "It was gratifying to go from being born and raised in a metropolitan area to experiencing life in a small town like Clinton."
He says the transition from Clinton High School to Hamilton was easier because he was used to the area and so many Hamilton people were involved in the program. "Going to Clinton I was introduced to so many more experiences, learning all about resources and networking and all that college offers. I have gusto for the future," Rodriguez says.
Robert McGriff, 50, an ABC alumnus who came to Clinton in 1977 and graduated in 1980, talks with pride about his career with the Camden, N.J., Police Department. "I was put in a situation where the place, people, school setting, living arrangement and a host of other things were totally different from what I was accustomed to," he says. "Learning to navigate through all of that taught me how to handle a lot of situations that I would encounter later on in life." McGriff attended Brockport State University and entered the Army National Guard in 1982. He joined the police department in 1988 and rose through the ranks to his present post as a lieutenant. He plans to retire this summer once he reaches the 25-year benchmark.
"The ABC program helped me realize that I could in fact meet … standards with a little effort on my part," McGriff recalls.