Saks CEO Stephen Sadove '73 is new board chair
Stephen Sadove '73, P'07,'10,'13 has assumed the chair of Hamilton's Board of Trustees after being unanimously elected by the board at its meeting in June. He succeeds A.G. Lafley '69, who served as chair since 2008. George F. "Jeff" Little II '71, P'04 ­continues as vice chair.
"I am grateful for this opportunity to serve my alma mater and to work more closely with Joan Hinde Stewart and her leadership team," said Sadove, chairman and chief executive officer of Saks Inc. "At this point in its 200-year history, Hamilton enjoys an outstanding academic reputation, talented faculty and students, fiscal stability, an enviable market share and a modern physical plant. Most importantly, our students are well prepared for the world they will inherit."
Sadove, who has served as a trustee since 2000, joined Saks in 2002 as vice chairman following a distinguished career in consumer products marketing, including a decade-long tenure at a firm with deep historical roots on the Hill, Bristol-Myers Squibb. The Sadove Student Center at Emerson Hall honors the Sadove family for the leadership that inspired the building's renovation and expansion. The facility, originally home to the Emerson Literary Society at Hamilton, was dedicated in 2010.
"Steve Sadove loves Hamilton, appreciates the challenges facing higher education and insists that we never accept the status quo," President Stewart said. "He listens carefully and thinks strategically. I look forward to working more closely with him."
Lafley '69 returns to lead P&G
Speaking at Hamilton's commencement in May 2012, A.G. Lafley '69 described how unexpected twists and turns in his own career made him realize that "change is the only constant in life." A year later, he has another example to prove his point.
Lafley, the outgoing chair of Hamilton's Board of Trustees, who served as the president and chief executive officer of Procter & Gamble from 2000 to 2009, has been recruited back to P&G as president, CEO and chairman of the board of directors.
The leadership qualities that have defined him in those roles will again anchor Procter & Gamble, the world's largest manufacturer of household goods. "A.G. Lafley is a bold, strategic thinker," said Hamilton President Joan Hinde Stewart. "He became chair of the Hamilton Board of Trustees around the time of the worst financial collapse since the Great Depression. While many colleges retreated, he suggested we use the moment to take bold steps and assert our mission. His emphasis on boldness inspired us to look for opportunities to address specific challenges head on."
Legendary CEO Tull inspires grads
Coming to Hamilton as a transfer student, "all of a sudden I felt like I was in the ecosystem of the possible," Thomas Tull '92 told the Class of 2013. It was a revelation the founder and CEO of Legendary Entertainment hasn't forgotten. "I am here to tell you today I am absolute living, breathing proof that you can come through anywhere, sit on this exact stage and accomplish things that, if they haven't occurred to you yet, maybe they will in the future," he said. "I am telling you that all those things are absolutely true."
Tull gave the May 26 commencement address to 491 graduates, urging them to "follow exactly what you think it is that you should do and pursue it with vigor." It's a trail he blazed more than two decades ago, returning to his hometown of Binghamton, N.Y., after graduation, building and selling a series of small businesses before entering the private equity field, and then founding Legendary in 2005. The film production company has lived up to its name with a remarkable run of box-office and critical successes, including Batman Begins and The Dark Knight, 300, The Hangover, Where the Wild Things Are, Man of Steel and 42.
Tull, a Hamilton trustee, was awarded an honorary degree, along with fashion designer Oscar de la Renta; Xinran, a Chinese radio journalist and best-selling author; and the Rev. Joseph McShane, S.J., president of Fordham University, who offered the baccalaureate sermon.
And a couple of further thoughts
Keynote speaker Thomas Tull '92 wasn't the only one to serve up words of wisdom to the Class of 2013 at commencement exercises. Valedictorian Jeremy Adelman '13 began writing his commencement speech intending to list "all the life lessons I learned at Hamilton," then realized he'd have to cut it to 10. We've whittled it down even further — to one — but you can read and view his full speech at www.hamilton.edu/commencement:
"Speaking of Ludwig Wittgenstein (now that's a phrase that needs to come up a lot more in everyday conversation), the most important quotation I came across during my college career, the words that conclude my physics thesis on quantum gravity, and the Number 3 life lesson I learned from Hamilton College, is his immortal quip: 'If you don't know what the hell you are talking about, shut up.'"
James Soper Merrill Prize recipient Susannah Parkin '13 had equally valuable advice to offer classmates. Recalling how she forced herself to register for a public speaking course despite regarding it as her "worst nightmare," she said: "We have to see fear as an opportunity for growth. We have to seek out challenges. Facing our fear with a sense of purpose makes us stronger because it puts us in control of the fear."
The video and text of commencement speeches can be found at: www.hamilton.edu/commencement.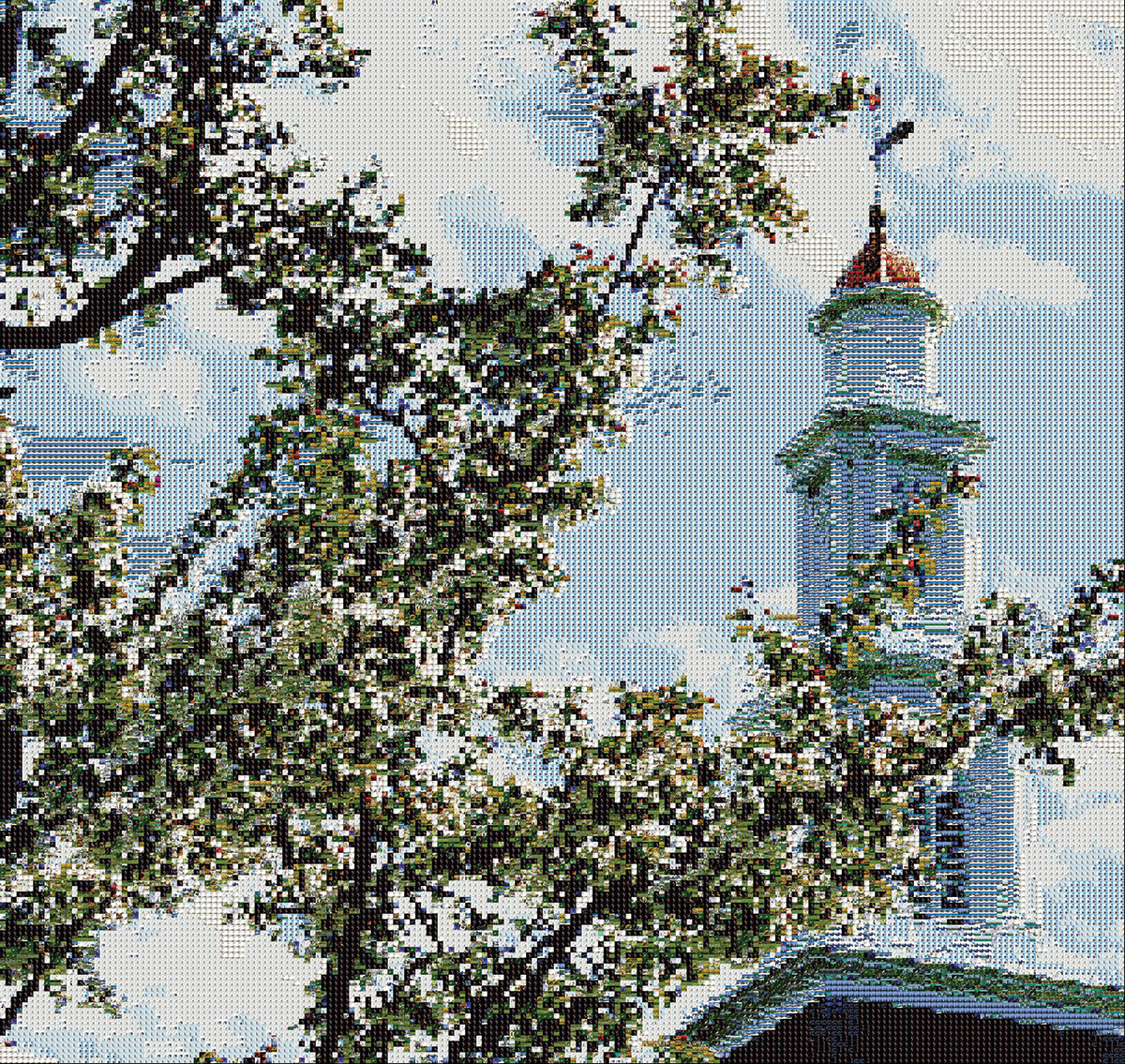 MAKE NO MOSAIC: If you look closely at this image of Hamilton's signature architectural landmark, you'll notice that it's actually made from tiny campus photos — more than 39,000 of them. Director of Computer Science Laboratories Jerry Tylutki rendered this representation of the College Chapel using code created by Sunyoung Hwang '13 for a computer science class last spring. The program analyzed 14x14 pixel "tiles" of the original image and replaces them with other photographs that closely match he hue and density.
Bicentennial Initiatives tops revised goal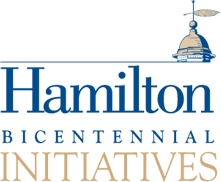 In the final chapter of its 200th anniversary celebration, Hamilton concluded the Bicentennial Initiatives campaign on June 30 with gifts and pledges of $139.8 million.
Campaign Chair George F. "Jeff" Little '71 P'04 said Bicentennial Initiatives was centered on the College's three most pressing priorities: student financial aid, arts facilities and growing unrestricted support through the Annual Fund. "We conducted a campaign that was shorter in duration than our previous efforts and focused squarely on a smaller number of critical needs," he said. "Our alumni, parents and friends understood the importance of these priorities and responded generously, despite a sluggish economy."
Little, who also serves as vice chair of the Board of Trustees, said the campaign's original goal of $117 million was increased to $133 million a year ahead of its planned completion. As a result, the College recently admitted its fourth class under the new need-blind policy and began construction in 2013 for new theatre and studio arts facilities.
"Because of the success of Bicentennial Initiatives," Little added, "we can continue to ensure that any qualified student, regardless of family resources, has access to a Hamilton education. New funding also has helped the College provide state-of-the-art facilities for students and faculty to develop their creative potential."
Little has now chaired the last three capital campaigns for Hamilton. Bicentennial Initiatives, Excelsior and The New Century Campaign raised a total of $430 million for College priorities.
"All Hamiltonians, past and present, owe Jeff Little our thanks," said Vice President for Communications and Development Dick Tantillo. "Because of his leadership, our students and faculty have the resources to benefit from one of the best educations in America. Jeff was joined by hundreds of other Hamilton volunteers around the world whose efforts were critical to the success of the campaign."
Overall giving in 2012-13 totaled $25.6 million, which is the fourth best fundraising year in the College's history. Included in this support is the College's Annual Fund. "The College's 2012-13 Annual Fund surpassed it $6.6 million goal by $30,000, a new record for unrestricted giving," Tantillo said. "Each year alumni contributions to the College place Hamilton among the top 1 percent of all colleges nationally for alumni support." Hamilton parents are also generous, contributing $2 million this year.
Please Edit to add slideshow images
Great Names hosts Nobel Peace laureates
A century after Elihu Root, Class of 1864, earned the Nobel Peace Prize, Hamilton hosted a pair of Peace Prize laureates as part of the Sacerdote Great Names Series.
Bernard Kouchner, a physician and founder of Doctors Without Borders, and Shirin Ebadi, a human-rights activist in Iran, visited campus in April, sandwiching a formal presentation — and earning a standing ovation — in the Margaret Bundy Scott Field House between visits with classes and chats with individual students.
"If you want to change the law, you must be in the law," Kouchner said, noting that he entered French politics and worked his way to the United Nations in order to shape the passing of resolutions by the General Assembly granting humanitarian organizations access to those needing help and ordering governments to permit such actions.
Peace, Ebadi then argued, is not simply the absence of war — it is also the assurance of human dignity. Looking at her native country, Ebadi pointed out how Iran is not at war, yet it is also not at peace. Lacking social justice and democracy, she described the Iranian government as running a political agenda apart from the true opinions and desires of its people.
Kouchner and Ebadi were joined by former U.S. Ambassador Edward Walker '62, the Christian A. Johnson Distinguished Professor of Global Political Theory, who moderated a discussion with the two laureates over questions posed by the Hamilton community.
Campus turns it off, wins power challenge
Yes, that was a long, gray winter. And yes, those on the Hill hunkered down and took it in stride, as always. But this year they did a little more — or, technically, a little less.
Hamilton was the 2013 winner of the three-week NY Negawatt/CCN Competition Challenge among the New York Six Liberal Arts Consortium peer schools, reducing electricity consumption across all campus residence halls by 5.8 percent. That's equal to 27,909 kilowatt hours, or approximately $2,500 worth of juice.
The Hamilton Environmental Action Group, which led the effort, "is absolutely thrilled about this big win because it demonstrates that Hamilton as a community is dedicated to making a difference concerning sustainability here on campus," says Nora Boylan '15, HEAG co-president. HEAG plans to use $4,000 in funding — offered by the College for the victory — "to purchase re-usable water bottles for the incoming Class of 2017 as part of our Take Back the Tap Campaign," Boylan says.
Joining Hamilton in the New York Six are Colgate University, Hobart and William Smith colleges, St. Lawrence University, Skidmore College and Union College.
Come and sit a spell
While current Hamilton students may happily plop themselves down on any open spot of grass to study or converse with a friend, Mark Kahn '70 has found a lack of proper outdoor seating ever since his days living in North Residence Hall. That same thought crossed his mind a few years ago when he stayed in Carnegie for his class' 40th reunion. The solution: sprinkle Adirondack chairs throughout the Hamilton green.
Kahn recruited 15 fellow alumni from the classes of 1963, 1969 and 1970 to help him purchase 21 chairs — 19 teak Adirondack chairs from Indonesia and two made of cedar and designed by Kahn himself. Dedication plaques adorn the arms of each chair to honor former professors and classmates of the donors.
Kahn, Peter Kennedy '70, George Conner '70 and Steve Kenny '69 arrived early for Reunions '13 in June to assemble the chairs. The task took seven hours … in the rain. "I hope this is going to change the nature and face of the campus in a small and definite, positive way," Kahn told those gathered at a dedication ceremony the following day. "I was inspired by a campus that had almost everything that you could possibly imagine, including beauty, but not a comfortable place to sit down with friends, or study and read, or rest."
Chair donors reminisced about Hamilton and the people they had chosen to memorialize. Kennedy dedicated his chair to the late Sidney Wertimer, professor of economics and dean of students, reflecting how he "nurtured him through Hamilton." Others chose to remember professors Duncan Chiquoine, Robin Kinnel, Tom Johnston and Don Potter, while others dedicated chairs to Hamilton and Kirkland friends.
Please Edit to add slideshow images


Class & Charter honors for 165
Urged by Thomas J. Schwarz '66, P'01 to "embrace failure as a means of growth," Hamilton students and faculty concluded the 2012-13 academic year with the 63rd annual Class & Charter Day convocation in the Chapel. Schwarz, a life trustee of the College and president of Purchase College, State University of New York, gave the keynote address as 155 students earned prizes and scholarships for public speaking, writing and achievement in all academic disciplines.
Ten faculty members were honored for teaching and scholarship, including Professor of Music Lydia Hamessley, Assistant Professor of Religious Studies Abhishek Amar and Assistant Professor of Art Rob Knight, who received the College's highest teaching awards, while Assistant Professor of Government Ted Lehmann received the Student Assembly's Sidney Wertimer Award.
Six faculty members were recognized for research and creative success with the Dean's Scholarly Achievement Awards. Barbara Gold, the Edward North Professor of Classics, and Jonathan Vaughan, the James L. Ferguson Professor of Psychology and Neuroscience, received the Career Achievement Award. Visiting Associate Professor of Religious Studies S. Brent Plate was recipient of the Early Career Achievement Award. Associate Professor of Geosciences Dave Bailey, Assistant Professor of History John Eldevik and Ernest Williams, the William R. Kenan Professor of Biology, received the Notable Year Achievement Awards, which recognize particular accomplishments in the past year.
For full coverage of Class & Charter Day, go to www.hamilton.edu/ccd.
Learning the Ropes
Ali Crivelli '14 spent her summer interning at the Museum of Chinese in America in New York City. Shown here with an exhibit on Chinese fashion designers, she worked in the development and curatorial departments, researching Chinatown's history and current Asian-American artists, and updating the museum's fundraising database.
More than 65 students received Hamilton-sponsored stipends to pursue unpaid internships this summer. For a full slate of stories, see www.hamilton.edu /internships.
Rimmer, MacDonald top senior athletes
Mike MacDonald '13, a two-time NESCAC all-conference linebacker, and women's soccer player Alex Rimmer '13, Hamilton's all-time leader with 37 career goals, received the 2013 Jack B. Riffle Awards in May. The Riffle Award has been presented annually since 1987 to the outstanding Hamilton male and female senior athlete.
Rimmer started all 63 games during her Hamilton career. She was a third-team selection for the 2012 Division III New England All-Region team and a first-team pick for the 2010 All-Region for the East Region. Rimmer also garnered all-conference honors three times. Tied for second place all-time at Hamilton with 81 career points, she helped lead the team to four postseason appearances.
MacDonald finished second in the football program's history with 301 career tackles and played in all 32 games. The two-time captain also was named to the 2012 NESCAC Fall All-Sportsmanship Team.
Victories adding up for Mathletics team
The Hamilton Mathletics team took first place in the annual Snow Bowl competition for the third year in a row, edging out teams from Colgate University, Skidmore College and St. Lawrence University. In addition, the team earned a ranking of No. 43 out of all participating colleges and universities throughout the United States and Canada.
Coached by Assistant Professor of Mathematics Andrew Dykstra, the team consisted of Jeremy Adelman '13, Julian Aronowitz '14, Sitong Chen '16, Yifei Chen '13, Robert Huben '15, Jessie Shelton '15, Justin Smith '14, Josh Snyder '13, Sunrose Shrestha '14, Yonghyun Song '13, Peter Talpey '14 and Evan Van Tassell '13.
The team trained through last fall semester before taking the William Lowell Putnam Exam, the basis for the Mathletics competition, in December. The Putnam is a six-hour written exam comprising 12 complex problems — so difficult that in a typical year, the median individual score is zero out of 120 possible points. Hamilton's 12-student team earned 115 points, the College's highest team score ever.