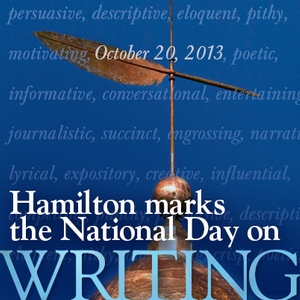 As a college that has valued good writing for more than two centuries, Hamilton was proud to join in celebrating the fifth annual National Day on Writing on Oct. 20. On campus, students marked the day with a contest sponsored by the Writing Center. Alumni were invited to share how writing skills they developed at Hamilton affect their personal and professional lives. Here are a few of those reflections:

Before Hamilton was co-ed, Professor Warren Wright loved to tell us that the Hamilton "man" can write, speak and think. Hamilton's professors, regardless of the course, took pains to make us better writers. It did not matter whether you had Jim Bradfield in economics, Bob Simon in philosophy or Dwight Lindley in English, your writing received a thorough critique on content and clarity. Writing well became second nature, and those skills led me to be a law review editor and a legal writing fellow at Penn Law School. I now teach advanced legal writing to young lawyers at the U.S. Department of Justice, where I share those Hamilton-honed skills with my colleagues.
— Michael Quinn '80

I learned to write in Russell Blackwood's History of Western Philosophy, a year-long course that traced a linear sequence of philosophical thought. Every week we wrote a two-page paper analyzing the assigned reading, which created a "hook" for the following week's reading. I learned to think through what I wanted to say, to articulate it precisely and to find joy in it. That course brought my writing into the adult realm, and I use that skill of discerning and articulating the main point in the work I do now analyzing and creating the visual display of quantitative data.
— Libby Barlow '84

I was an extraordinary writer when I entered Hamilton in 1958. I knew that because my favorite high school English teacher told me that so often. So I was stunned by Austin Briggs' criticisms of my compositions. I got over that. By the time I graduated, I had become a better (and more humble) writer. But I was stunned again at IBM to find how few people could put together a well-written document. As a rookie in Employee Relations, I was often asked to edit the work of senior officials, then to compose letters from executives. The communications skills I learned at Hamilton accelerated my career much more quickly than my intellect alone could have. I learned to love writing and went on to write poetry and song lyrics. I published a memoir and now teach a writing class at the local Senior Center. Thanks, Hamilton. You brightened my life. (Did I get a "Yes"?)
— Tony Cobourn '63
Editor's Note: Mr. Cobourn is recalling "yes" themes, where, in order to pass English Composition, students had to write two papers without a single spelling, grammar or logic mistake.

During my time on the Hill I did not fully appreciate the writing skills I was acquiring … This was particularly apparent shortly after I matriculated to a graduate program. In one of my first classes we were asked to write a substantial research paper. When the first draft was returned I found a high grade with only a few minor edits noted. My fellow classmates, though — almost universally — were told to visit the university's writing center and — almost universally — were irate at receiving this suggestion. Many had received high grades on writing assignments during their undergraduate careers and were shocked to be told that their writing was not at the graduate-school level. I, on the other hand, was used to receiving average grades on writing assignments as an undergraduate and was pleasantly surprised to discover that my writing was deemed appropriate. I am loath to admit I had not even considered the paper to be my best work; I had simply written as I knew how to write.
This is the moment I fully understood what I had learned about writing at Hamilton. Communication was not a course requirement to be fulfilled. It was not even the three writing-intensive classes we needed to pass in order to graduate. It was a lesson woven into nearly every experience on the Hill. It was an expectation, not an option. Those who taught us demonstrated these skills every day and expressed full confidence in their students' ability to acquire and utilize those skills as they went forth.
As I have gone on into my career I realized another benefit: in learning how to write effectively, one learns how to think critically. The questions I ask myself while writing — Does this make sense? Is this succinct? Is the explanation clear? — are just as important when considering the world around us.
The value of writing skills cannot be underestimated, and I am grateful to Hamilton for instilling that in its students throughout its history and continuing that education for generations to come.
— Rori Dawes '00

I thought I was a good writer in high school before I got to Hamilton. Then Professor [John] O'Neill, who taught English 200, gave me a D on the first essay I ever wrote at Hamilton. I truly thought that I would fail out, but I eventually found my love for writing in creative writing classes, writing fiction or personal essays. I still enjoy writing fiction today (and even won Honorable Mention in the alumni writing contest a few years ago; having author/alum John Nichols commend me on my story was a great thrill). I also find that the writing skills I developed at Hamilton have helped me in my career as an attorney. I learned how to craft arguments in a concise fashion without bowling over the reader with flowery language. Hamilton not only taught me how to write, but to love to write.
— Joseph Verga '87

Four years at Hamilton College developed and honed my writing skills, and I have earned my living by writing ever since. I began by writing newsletter copy and press releases, went on to write promotional copy for professional conferences and seminars, and later wrote successful proposals for government contracts. In the meantime, I pursued fiction writing on the side, and I have recently published my first book, The Hammock: A novel based on the true story of French painter James Tissot. It has earned excellent reviews for the story line — and for the quality of the writing. I remain grateful for my Hamilton education.
— Lucy Paquette Zuercher '85