China's Leaders: The New Generation
cli@hamilton.edu
Margaret Morgan-Davie
is Lecturer in Economics at Hamilton College
More ...
Rowman and Littlefield Publishers, Inc.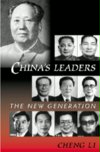 Click to see larger.
Exploring the contradictions between political leaders and non-elite peers in the same generation-those approaching the middle age who were barred from education during the Mao era and now often are unemployed and disenchanted with the government. 
Cheng Li
, professor of
government
concludes with the intriguing notion that the current generation of leaders may have a better understanding of its peers' needs and concerns and therefore may make the regime more accountable to its people, thus contributing to, rather than opposing, democratic development.
Read Introduction
Reviews
"A first-rate piece of scholarship, impressive in its scope. Li has effectively combined quantatative and qualitative research in a way that provides a clear sense of the generational change currently underway in the Chinese leadership. Scholars, students, policymakers, and general readers will all find this a fascinating and important work." Joseph Fewsmith, Boston University
"China's political process has always been mysterious, and the background of its political leaders has been largely secret. Cheng Li's book is an expert analysis of who these men really are and how the rising stars in Beijing are likely to govern in the coming years. I recommend it to anyone who wants to understand Chinese politics." Seth Faison, former Shanghai Bureau Chief for the New York Times