Lisa Trivedi Ph.D.
Associate Professor of History
Contact:
ltrivedi@hamilton.edu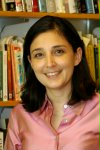 Her first monograph, Clothing Gandhi's Nation: Homespun and Modern India (Indiana, 2007) was supported by a Fulbright Scholarship to India in 1996. In 2004 Trivedi was a Visiting Fellow at Oxford University's Pembroke College, where she began research on her second monograph project, Bound By Cloth: women textile workers in Bombay and Lancashire, 1890-1940. Research for this project has received support from the American Institute of Indian Studies and the Fulbright Scholars Program.
Trivedi is working concurrently on a project of 70 photographs taken by an Indian photographer, Pranlal Patel, in 1937. The Jyoti Sangh Series is an extraordinary collection of photographs of ordinary women at work on the streets and in the neighborhoods of Ahmedabad, India. In addition to publishing these photographs for the first time with three critical essays, Trivedi is curating a photographic exhibition for the Wellin Art Museum.
Trivedi currently serves as co-editor of ASIANetwork Exchange: A Journal for Asian Studies in the Liberal Arts, the premier publication of ASIANetwork, a consortium of 165 liberal arts institutions with Asian Studies programs.
Topics:
Gandhi,History of India (1850-1950)