Robert Simon Ph.D.
Walcott-Bartlett Professor of Philosophy
Contact:
rsimon@hamilton.edu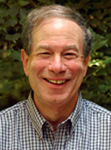 Simon was also a Fellow at both the Center for Advanced Study in the Behavioral Sciences (1975-76) at Stanford and the National Humanities Center in Research Triangle Park, N.C. (1981-82). He was the successful coach of the men's varsity golf team at Hamilton from 1986-2000, during which time his teams participated in NCAA championships.
Simon is the author of Fair Play, (Westview Press) on sports and social values. He is also author (with Norman E. Bowie) of The Individual and the Political Order and Neutrality and the Academic Ethic, and editor of The Blackwell Guide to Political and Social Philosophy.
Simon is the recipient of numerous teaching awards and sits on the editorial board for the Journal of the Philosophy of Sport. He was appointed the Marjorie and Robert W. McEwen Professor of Philosophy in July 2005.
Topics:
Philosophy of sports,Sports ethics,Title IX