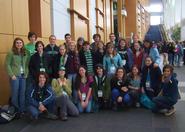 26 Hamilton Students Participate in Power Shift 2009
Hamilton was represented by 26 students at Power Shift 2009, held Feb. 27-March 2, in Washington, D.C. The conference brought 10,000 young people to Washington to mobilize, network, learn, teach, make a statement, and lobby congress to make some real progress on global warming. Students met with members of Congress to discuss rebuilding our economy and reclaiming our future through bold climate and clean energy policy.

Hamilton students attending were Nick Costantino '12, Jeremy Gleason '11, Will Thoreson-Green '12, Fionna Rennie '12, Will Gowen '11, James Beslity '11, Isabelle Van Hook '11, Erica Kowsz '11,Olivia Wolfgang-Smith '11, Kristen Morgan Davie '12, Kylie Cameron-Burr '12, Michael Harwick '11, Jen Santoro '11, Catie Ferrara '11, Alison Brown '11, Jen Kleindienst '09, Xiaohan Du '12, Chris Sullivan '09, Alyssa White '11, Maile Thayer '11, Mikayla Irle '12, Emily Goughary '09, Katrina Rabler '12, Bethany O'Meara '12, Melissa Balding '09 and Kye Lippold '10.