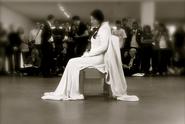 Abramovic Lecture Moved to Wellin Hall at 6:30 p.m.
Posted February 29, 2012
The lecture by performance artist Marina Abramovic has been moved from the Chapel to the Wellin Performance Hall. "The Past, Present and Future of Performance Art" will be held Wednesday, Feb. 29, at 6:30 p.m. Please note both the time and venue changes. The lecture is free and open to the public.