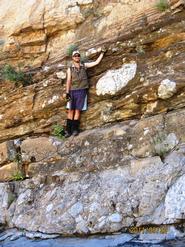 Alex De Moor '10 Conducts Field Work in Namibia
Alex De Moor '10 recently completed more than a month of field work in Namibia working on the Neoproterozoic glacigenic rocks of the Otavi Platform. Among other results of the field work were the collection and discovery of perhaps some of the earliest forms of animal fossils every found, that his team uncovered these unusual forms at the base of the Ediacaran section right above a prominent glacial layer known as a tillite.

De Moor worked under the supervision of Hamilton Professor Eugene Domack under support of the J. W. Johnson Environmental Studies chair stipend. Also on the research team were Dr. Paul Hoffman (Harvard University-Victoria University) and Alex Crawford (Victoria University). De Moor was a geoscience major at Hamilton.