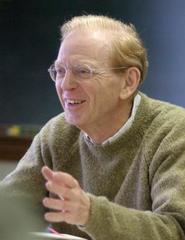 Briggs Publishes Essay in Joyce Series
Austin Briggs, the Hamilton B. Tompkins Professor of English Literature emeritus, has published "Why Leopold Bloom Menstruates" in a volume in the Florida James Joyce Series (Gainesville: University Press of Florida, 2009).

The essay originated as a paper delivered at the 2004 Joyce conference in Dublin. Competition for inclusion in the conference volume was particularly keen because more than 600 delegates presented papers there.