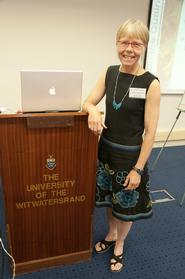 Tewksburys Present Research in South Africa
By Eileen Foote
Posted October 12, 2010
Professor of Geosciences Barbara Tewksbury and Geosciences Technician Dave Tewksbury gave several presentations at the 6th Quadrennial Conference of the International Geoscience Educators Organisation (IGEO) held Aug. 30 – Sept. 3, at the University of Witwatersrand in Johannesburg. The conference focuses on improving geosciences education worldwide. This year's theme was "Geoscience Education – Developing the World."
Dave Tewksbury presented a paper titled "Evolution of a GIS Curriculum in a Small Geoscience Department" to faculty contemplating adding GIS to their own curricula.
Barbara Tewksbury presented a workshop on using Google Earth to teach geologic map interpretation (http://serc.carleton.edu/NAGTWorkshops/structure/approach.html) and gave a presentation about the web resources collection she recently helped develop as part of an NSF-funded workshop on teaching GIS in the 21st century (http://serc.carleton.edu/NAGTWorkshops/gis/index.html).

Prior to the conference she presented an invited workshop on innovative course and assignment design at the University of Witwatersrand. The workshop was attended by a diverse group of faculty from departments ranging from engineering and sociology to mathematics and art history.