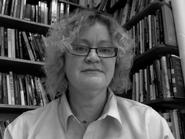 Barry Gives Talk on Gender and Climate Change
Joyce M. Barry, visiting assistant professor of women's studies, gave an invited lecture at the Center for Women's Studies at Colgate University on Nov. 5. Barry's talk, "Gender and Climate Change: Lessons from the Movement to End Mountaintop Removal," was based on research from her 2012 book, Standing Our Ground: Women, Environmental Justice and the Fight to End Mountaintop Removal, as well as information she is currently gathering on the connections between gender and climate change.
Using women's participation in the environmental justice movement to end mountaintop removal coal mining in Appalachia as a case study, Barry spoke about how local energy production zones have national and international implications in the current context of global climate change, and how grassroots women's groups in the North and South are responding to localized environmental changes while linking their specific challenges to women's collective responses in other parts of the world, and to the global realities of climate change.
Barry's lecture was sponsored by the Colgate Women's Studies program, and the Colgate Council for the Arts as part of a year-long series, "Moving Mountains in Appalachia."