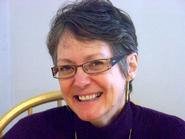 Boutin Organizes Mini-Symposium, Gives Talk, at International Conference
Professor of Mathematics Debra Boutin organized a mini-symposium at the Society for Industrial and Applied Mathematics Conference on Discrete Mathematics in Halifax, Nova Scotia. Her mini-symposium brought together 10 mathematicians to speak about their work on graph networks and their symmetries.
Boutin also presented "The Cost of 2-Distinguishing Cartesian Powers," her most recent work in this area.