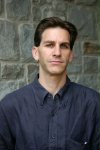 Ellingson Publishes Study About Religious Environmentalism
Associate Professor of Sociology Stephen Ellingson along with Veronon Woodley (Eastern Illinois University) and Anthony Paik (University of Iowa) published "The Structure of Religious Environmentalism: Movement Organizations, Interorganizational Networks, and Collective Action" in the June 2012 issue of Journal for the Scientific Study of Religion.
The authors document the emergence of new religious environmental movement organizations (REMOs) and show how theological commitments, organizational affiliations and interests in particular environmental issues shape the formation of information exchange and joint action relationships between REMOs. While REMOs are quite willing to share information with groups from different religious traditions, they tend only to engage in joint protest or programs with groups that share the same theological and ethical perspectives. Ellingson's research was made possible by grant from the Louisville Institute.