Ethan Woods '09 Awarded Bristol Fellowship
---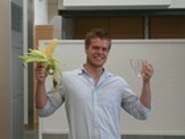 Ethan R. Woods '09 has been awarded the College's prestigious Bristol Fellowship. The Bristol Fellowship was begun in 1996 as part of a gift to Hamilton College by William M. Bristol Jr., '17. Created by his family, the fellowship is designed to encourage Hamilton students to experience the richness of the world by living outside the United States for one year and studying an area of great personal interest.
Woods' proposal is titled "A Culinary Journey: Recipes through an Economic-Historic Lens: Malaysia, India, Turkey, Germany, Austria, Italy." Through this fellowship he plans "to study the development of culinary culture along the ancient spice route through recipes." To understand the extent to which the development of culinary cultures was influenced by the ancient spice route, he will study both the origin and migration of their ingredients across cultures through an economic-historic lens, focusing on both the ancient history of the Eastern Spice Routes and the modern day economics of the food industry.
Woods writes, "With the Bristol Fellowship, I will completely immerse myself in six distinct food cultures to understand each culinary fabric, its economic history, and the current economic landscape of its food industry. I hope to write a cookbook that will jump off the shelf and has a story to tell. It will be both a source of entertainment and the means to a fabulous ethnic meal—the kind of book that creates a stir. I propose a journey that will be transformative: a whirlwind of people, places, spices, sauces, delicacies, and challenges."
Woods' project will take three stages: learning and practicing a recipe native to a region; dissecting the recipe into its constituent ingredients and tracing the economic history of each ingredient; and analyzing the food industry through restaurant competition by comparing pricing schemes, advertising methods, incentive schemes, and cost of ingredients.
He explains, "In addition to cooking, I will both buy ingredients and visit spice-growing farms to examine the economic angle of the process. Further economic-historic analysis will be achieved by both searching through local city and university libraries for primary sources related to the economic past of the spice trade, and seeking out experts on the local spices and economy."
Woods' journey will begin in Turkey, which represents the confluence of both the land and sea routes stemming from India and China. His second destination is Europe starting in Northern Germany and going on to Bavaria and Austria, and then to Italy. His final destination, Peninsular Malaysia, seated on the Eastern portion of the Straits of Malacca, which, he says, is arguably the most important spice port world.
Woods is an economics and geosciences major at Hamilton. A recipient of a Levitt Fellowship to enhance student research around issues of public affairs, he conducted collaborative research outlining the technological infrastructure and economic feasibility of biofuels in the U.S. He is also a Levitt Scholar, a program through which students visit area high schools to speak on a wide variety of topics. Woods is an Admission tour guide and a lab consultant for Hamilton's Information Technology Services. In 2008 Woods served as a summer intern at Goldman Sachs Company. He is a member of the Hamilton College Choir and a capella group, the Buffers.
Woods is the son of Dale and John Woods of Seeley Road in Stratford and is a graduate of Dolgeville Central School.
The Bristol Fellowship is intended to be highly personal and is open to all interested Hamilton seniors. Proposals are evaluated based on inquisitiveness, a spirit of adventure, depth of personal interest, and openness to other cultures. While not a requirement, proposals are also considered for their sense of family connection.
William M. Bristol served as a Hamilton trustee, president of the alumni association, fundraiser and benefactor. He was one of seven generations of Bristol family members to attend Hamilton, dating back to the chartering of the college in 1812. Mr. Bristol's great, great-grandfather Joel Bristol became one of the college's first trustees after helping to found the Hamilton-Oneida Academy, which later became Hamilton College, in 1793.
Related Information
Fellowships and Scholarships
Utica Observer-Dispatch article about Woods' Fellowship