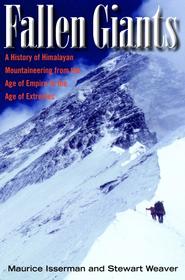 Commonweal Reviews Fallen Giants
Book "Chronicles the Great Climbs and Does It Superbly"
Posted July 22, 2009
Fallen Giants - A History of Himalayan Mountaineering from the Age of Empire to the Age of Extremes
by Maurice Isserman, the James L. Ferguson Professor of History, and University of Rochester Professor Stewart Weaver was
reviewed
in the July 17 issue of
Commonweal
, the independent journal of opinion edited and managed by lay Catholics. Nicholas Clifford, the reviewer and former history professor at Middlebury College, wrote that the authors, "chronicle the great climbs, and do it superbly. … they are historians, not chroniclers, and they situate the climbs and the climbers within their particular historical and cultural contexts-social, intellectual, economic, political, and so forth."
In
"One Damn Peak after Another,"
Clifford addressed the ambiguity of the book's title and the authors' focus on the evolution of climbing culture. "The fallen giants are not just the great peaks themselves, nor are they just the great climbers who met death on the heights (starting with the British alpinist A. F. Mummery, who vanished on Nanga Parbat in 1895). Another fallen giant has been the old ethic of the cordée, too often replaced by the desire of the individual to make it to the top, no matter what," Clifford wrote in conclusion.