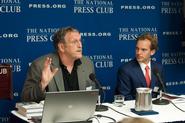 Isserman and Cronkite '11 Present Cronkite's War
Publius Virgilius Rogers Professor of American History Maurice Isserman and his former student and CBS News Associate Producer Walter Cronkite IV '11 presented their new book, Cronkite's War: His World War II Letters Home, to a full house at the National Press Club (NPC) in Washington, D.C., on June 4. Their presentation was followed by a question and answer session and book-signing. Proceeds from the event benefited the National Press Club Journalism Institute.
The book is a blend of personal correspondence from Cronkite to his wife, Betsy, between 1943 and 1945; selections from Cronkite's wartime dispatches; and contextual narrative weaving them together.