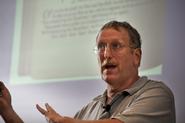 Isserman Discusses Poverty in Kennedy Library Forum
Publius Virgilius Rogers Professor of American History Maurice Isserman joined author Peter Edelman on June 4 for "Poverty in America," a discussion of the politics and persistence of poverty in the United States, at the John F. Kennedy Presidential Library and Museum in Boston. Edelman is the author of the recently published book So Rich, So Poor: Why It's So Hard to End Poverty in America.
The discussion took place on the 50th anniversary of the publication of Michael Harrington's The Other America: Poverty in the United States. Isserman recently wrote a new introduction for the 50th anniversary edition of the book and is the author of Harrington's biography, The Other American: The Life of Michael Harrington.
According to its website, the Kennedy Library Forums are designed "to foster public discussion on a diverse range of historical, political and cultural topics."