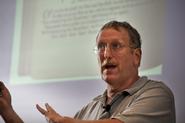 Isserman Lectures at Missouri History Museum
Publius Virgilius Rogers Professor of American History Isserman presented a lecture April 18 at the Missouri History Museum in St. Louis. "The Legacy of Michael Harrington's The Other America on Its 50th Anniversary" was part of the museum's Stories of Resilience, a monthly series examining such topics as homelessness and hunger from different perspectives.
Isserman, wrote the introduction for the recently-released 50th anniversary edition of Harrington's 1962 book on poverty in the United States.