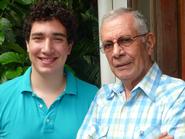 Lavallee '14 Takes Up Cause of Honduran Campesino Farmers
Investigates Issues of Violence, Inequality
By Patrick Bedard '14 | Contact Holly Foster 315-859-4068
Posted August 22, 2012
According to the Honduran government's human rights prosecutor, more than 40 poor rural farmers, or campesinos, have been killed during land seizure struggles in the agricultural region of Colon, Honduras, over the past four years. Much of this violence stems from the efforts of agribusiness patriarch Miguel Facusse, whose Dinant Corporation has purchased vast tracks of farmland from the Honduran government for palm oil production. A 2011 New York Times article says that Dinant Corporation's private security guards have been directly responsible for much of the violence and evictions.
World politics major Martin Lavallee '14 has taken up the cause of these disenfranchised campesinos by conducting a Levitt Summer Research Project to investigate possible land reform solutions to their plight. As the issue of land reform in Honduras is both complex and not widely publicized, Lavallee decided to conduct his project in Honduras to study the issue first hand. He is being advised by his grandfather Anibal Delgado-Fiallos, who served as director of the National Agrarian Institute in Honduras, and Hamilton Professor of Government Stephen Orvis.
In the 1960s and 1970s, Honduras undertook an anti-communism initiative with the support of U.S. President John F. Kennedy in order to appease agrarian dissent by redistributing small plots of uncultivated land to campesinos. Because the plots of allocated land were small, campesinos were not given further government support and land resale was banned, so many famers fell heavily into debt.
In 1992, the Honduran government attempted to alleviate this problem by employing a neoliberal ideology which allowed farmers to sell their land on the open market to pay off their debts. Much of this land was sold to multinational corporations and agribusinesses at well below its market value, leaving many campesinos with neither money nor land. According to Lavallee, corporations like Dinant engaged in subversive tactics to force unwilling farmers to sell their land, such as the use of private security forces, which resulted in the violence like that seen in Colon.
Lavallee interviewed a number of campesinos, public officials, and land reform experts while in Honduras in order to learn more about the land reform situation. He interviewed Delgado-Fiallos and a campesinos legal advocate who contend that a third large scale land reform movement was the only feasible option. Lavallee remarked that landless campesinos have no startup capital and little formal education, making it difficult for them to pursue jobs other than farming. Honduran cities are currently in a state of economic depression with few available jobs, forcing farmers to either continue their conflict with corporate land owners or emigrate from Honduras to other countries.
Unfortunately, Lavallee believes that new land reform is a politically difficult goal to achieve. Low voting rates among campesinos and notoriously high corruption rates among agribusiness owners and government officials makes land reform a difficult subject for lawmakers to approach. Lavallee was in Honduras during the time of preliminary presidential campaigning, and he recalled that there were almost no references to land reform policy by presidential candidates – it simply is not an issue that Honduran politicians are willing to approach.
While the outlook is grim for many campesinos, Lavallee has found a source of hope for farmers in the form of agricultural cooperatives. Campesinos are banding together in some areas to form collectively managed large farms where crops are evenly distributed and profits are reinvested back into the farm cooperative in the form of agricultural equipment, wells and schools. While these cooperatives have shown great potential in certain isolated applications, only time will tell if such a collective system is effective enough to be adopted by the campesino population as a whole.
Lavallee is a graduate of Marlboro High School (N.J.)