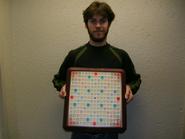 Men's basketball falls to St. Lawrence
Contact Paige Mullin (315) 859-4535
Posted January 30, 2010
St. Lawrence University used a 14-0 run to turn a five-point deficit into a nine-point lead late in the first half, and the Saints went on to a 68-53 Liberty League win against Hamilton College at St. Lawrence's Burkman Gymnasium on Jan. 30.

Pat Sullivan '12 tallied a game-high 22 points and brought down a team-high eight rebounds for the Continentals (7-10 overall, 3-4 Liberty). Dayne Harris '11 added eight points and four rebounds. Jay Simpson '10 handed out a game-high nine assists. Ken Click '13 recorded four rebounds and three assists in his first start.
Hamilton jumped out to a seven-point lead at 11-4 in the opening five minutes after Sullivan hit a 3-pointer. The Saints (9-9, 5-2) responded with a jumper, but a 3-pointer by Ephraim McDowell '12 made the score 14-6 with 12:23 left in the first half. The eight-point lead was the biggest of the afternoon for the Continentals.

The Saints fought back and took the lead for good at 23-22 on two made free throws with 3:33 remaining. St. Lawrence scored the next eight points, but Harris hit a jumper with 1:05 left, and the Saints went into the break with a 31-24 lead.
St. Lawrence opened the half with two layups to go up by 11. Hamilton cut its deficit to six at 40-34 after a jumper by Sullivan with 14:47 remaining. That was as close as the Continentals could get in the second half.

St. Lawrence upped its lead to as many as 22 points three different times. A 3-pointer stretched the advantage to 22 for the last time with 1:39 remaining. In the final 83 seconds, Eric Benvenuti '13 scored five points, Max Shillalies '11 made a free throw and Tim Shaw '10 hit a 3-pointer to pull Hamilton closer.
The Continentals shot 40 percent from the field and went 3-for-6 at the free-throw line. The Saints shot 53 percent from the floor and made 7 of 13 free-throw attempts.
Hamilton plays another league game on Friday, Feb. 5, at home against Skidmore College.