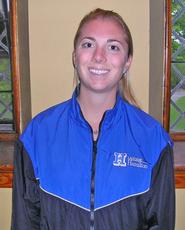 Men's ice hockey upsets Williams in NESCAC quarterfinal
Contact Paige Mullin (315) 859-4535
Posted February 27, 2010
Andrew White '13 scored 2:47 into overtime to lift Hamilton College to a 2-1 win over nationally ranked No. 8 Williams College in a New England Small College Athletic Conference championship quarterfinal game played at Williams' Lansing Chapman Rink on Feb. 27.
White buried a rebound off a shot by Andrew Jelinek '13 for his second goal this season. Hamilton -- now 7-4-1 in games away from home this season -- took three shots in overtime while the Ephs didn't have any.

Calvin Bartel '13 made 25 saves for the Continentals. Bartel lowered his goals against average to 2.62 and raised his save percentage to .913.
Hamilton (15-8-2 overall) is the sixth seed in the championship. The Continentals won their first postseason game since a 9-5 shootout at Williams in the 2006 NESCAC quarterfinals. Hamilton has won four straight games. Williams (15-6-3) was the third seed in the championship, and dropped to 3-11 in NESCAC postseason history.
The Ephs grabbed a 1-0 lead 4:05 into the second period. Tom Chiappetta '11 tied the score with a power-play goal at 9:54 of the second when he deflected a shot by BJ Lalonde '12. It was Chiappetta's eighth goal of the season. Joe Buicko '11 also picked up an assist.
Williams held a slight 26-24 advantage in shots on goal. The Continentals were 1-for-5 on the power play, and killed all six of the Ephs' chances.
Hamilton will take on NESCAC regular season champion Bowdoin College in a conference championship semifinal at Bowdoin on Saturday, March 6, at 1 p.m. The Polar Bears topped Colby College 2-1 in overtime as well.