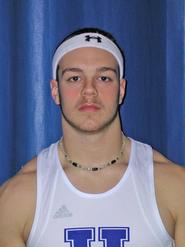 Men's track & field places eighth at state championships
Contact Paige Mullin (315) 859-4535
Posted February 28, 2010
Graham Sadler '13 and Josh Orndorff '11 earned runner-up finishes for Hamilton College at the 2010 New York State Collegiate Track Conference championships held at Rochester Institute of Technology on Feb. 26 and 27.
Sadler took second in the high jump with a height of 1.88 meters (6 feet, 2 inches). Orndorff claimed second place in the shot put with a distance of 13.60 meters (44-feet-7½). The top three finishers in each event make the all-state team.
James Grebey '12 finished third in the 800-meter run with a time of 1:58.27. Dan Keating '11 took seventh place in the same event in 2:00.11. In the 5,000-meter run, Scott Bickard '11 finished seventh, crossing the finish line in 15:46.10. Jimmy Alexis '13 finished in eighth place in the pole vault as he cleared 3.95 meters (12-feet-11½).

Hamilton finished in eighth place with 34 points. Rensselaer won the team title with 159 points.