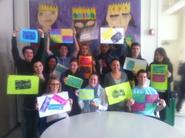 NY Program Students Visit El Museo del Barrio
On March 30 students in the Program in New York City visited one of the city's great community museums. Located on 5th Avenue and 104th street, El Museo del Barrio is thinking ahead to how museums will engage their communities in the globalized and digitized future. The group met with Gonzalo Casals, director of Education and Public Programs and Mairelys Alberto, Outreach Programs coordinator, for three hours of provocative conversation about the future of museums.
To make the conversation more immediate and meaningful, Casals asked the students to discuss in small group questions of how we use museums, what is the role of museums and what they will be in the future. The students enjoyed learning how to do simple print making in order to present key words from their discussions.