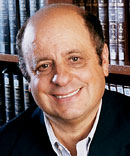 NYU's Jacobs Discusses Gun Control Measures
Jim Jacobs, a professor of law and director of the Center for Research in Crime and Justice at New York University School of Law visited campus to lecture on the current state of gun control legislation in the United States through the Levitt Center's Security program. Jacobs, who was on the hill at the invitation of Maynard-Knox Professor of Government and Law Frank Anechiarico, attracted a standing room only audience of students and local residents at his April 15 lecture in the KJ Red Pit.
Jacobs opened his talk first by framing the issue of gun control in the context of the past 20 years of legislation. The United States enacted its first serious gun reform legislation in 1993 with the passage of the Brady Handgun Violence Prevention Act and the subsequent 1994 Federal Assault Weapons Ban.
Despite these two early victories for gun control activists, second amendment advocates saw victory after victory over the course of the next 20 years, with Congress allowing the assault weapons ban to expire in 2004, the Supreme Court declaring that handgun ownership is protected by the second amendment in 2008, and Congress voting to allow firearms in national parks in 2010. Jacobs pointed out that the expansion of second amendment rights was largely put on hold after the Aurora and Newtown shootings, but for every state that has since passed stricter gun laws, three more have expanded gun owner's rights.
After setting the stage for the currently proposed federal gun control measures, Jacobs opened the floor to questions from the audience, and a lively debate and discussion followed. The first question posed concerned the constitutionality of New York State's recently passed gun control measures, which include a ban on all new weapons containing a single assault-weapon-style "trait."
Jacobs began his answer by describing an exercise he conducts with his NYU law students. He first asks his class if they would agree that assault weapons should immediately be banned, to which they consistently answer in the positive; yet, invariably, not a single student can correctly identify which traits of a rifle classify it as an "assault weapon." In fact, the very traits that the federal government and New York State use to identify assault weapons are often cosmetic, leading to questions on the rational constitutional basis for such a ban.
Jacobs also takes issue with the process by which the New York State legislation addresses gun ownership by the mentally ill – the ban will allow a state appointed board to ban an individual from owning firearms at the recommendation of a mental health professional with no opportunity for appeal and no due process.
In addition to questions on constitutionality, Jacobs also addressed some of the broader issues regarding gun control. Sarah Larson '15 raised the question of why the issue of gun control is so much more controversial than the myriad of other regulations that the federal government imposes, while Alex Host '13 wondered how emerging technologies like 3D printing will affect attempts to regulate magazine size.
Other topics covered by Jacobs included questions on HIPAA conformity, firearm assisted suicide, firearm ownership by convicted felons and universal background checks. Some more normative questions, such if gun ownership is necessary component of constitutional democracy, remained unanswerable, but by the end of the discussion, there was a general consensus by attendees that addressing the issue of gun violence in America will require a more comprehensive approach to lawmaking than a simple assault weapons ban.