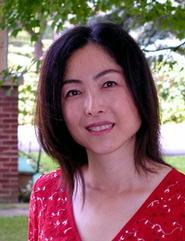 Omori Gives Presentation at Society for Cinema and Media Studies
Associate Professor of Japanese Kyoko Omori presented a paper titled "The Benshi as a Modernist: Tokugawa Musei and Psychological Films of the Early Twentieth Century" at the 50th annual meeting of the Society for Cinema and Media Studies in Los Angeles in March.

Her talk focused on the golden age of benshi performances (live silent film narration) during the 1920s, an era that also saw the rise of modanizumu (modernist movements) in Japanese art and literature. More specifically, she discussed modernist experiments by the most acclaimed benshi of the period, Tokugawa Musei, who aimed to apply the orality of live narration to the visuality of European silent film (such as The Cabinet of Dr. Caligari) in order to achieve increasingly complex psychological effects. In doing so, he helped to bring the formal experiments of modernism to the realm of mass popular culture.