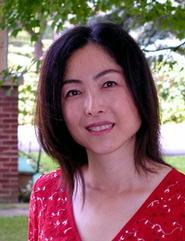 Omori Presents at Digital Humanities Conference
Associate Professor of Japanese Kyoko Omori presented a paper titled "Analysis of Silent Cinema and Benshi Narration in Digital Humanities" at a meeting in Kyoto, Japan, on Nov. 18. The conference was organized by the INKE group (Implementing New Knowledge Environments) in Canada, a major collaborative research initiatives program led by scholars at the forefront of computing in the humanities, text analysis, information studies, usability and interface design. It was hosted by Ritsumeikan University, Japan.
At this year's meeting, Omori presented on her pilot project with the Digital Humanities Initiative at Hamilton. While still in the initial stage of building an interface, when it is further developed the project will offer rare materials related to Japanese benshi silent film live narrators/lecturers from the 1920s-1930s, ranging from video and audio clips to benshi scripts, critical essays about benshi, and other ephemera like newspaper advertisements and flyers. With those materials, it will also serve as a cyber venue for inter-mediatic analyses on popular cultural production of the early 20th century.