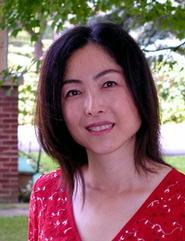 Omori Presents at UC Berkeley Conference
Associate Professor of Japanese Kyoko Omori gave a presentation at the University of California, Berkeley, on Feb. 8. The talk, "Edgar Allan Poe (and Tell-)Tales of Transmediatic Modernism in Japan: Literature, Film, Translation, and Benshi Performance," was part of an international conference, Media Histories Media Theories & East Asia.
In the talk, she focused on the development of Japanese modernist narrative in a global context, with particular attention to the process of "adaptation" as a dynamic space for artistic production. As an example, she used Edgar Allan Poe's The Fall of the House of Usher (1839) and its various adaptations in different cultural media, including Jean Epstein's French film La chute de la maison Usher (1928), Tokugawa Musei's Japanese benshi oral performance alongside Epstein's movie (first performed in 1929), and several Japanese translations of Poe's "Usher" story from the early twentieth century.