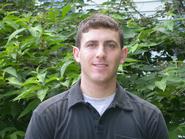 Peter Mucha '06 Studying Russian President Vladimir Putin's Affiliation With KGB
Levitt Fellow Hopes to Expand Research Into Senior Thesis
By Katherine Trainor | Contact Sharon Topi (315) 859-4451
Posted July 5, 2005
Tags
Peter Mucha '06 (Queensbury, N.Y.) is a secret agent man this summer. As a Levitt Fellow, he is devoting 10 weeks of research to cracking the case of Russia's KGB and current President Vladimir Putin's affiliation with this organization, in a study titled "Putin's Past and Russia's Future: Putin's Career in the KGB and Russian Politics."
A government major and math minor, Mucha is studying the past of the KGB, with aspirations of discovering whether there is a "specific KGB mentality," as he described, in relation to modern-day Russian politics.
"I'm looking to see if the KGB, especially the post-Stalin era KGB, conditioned its employees to think a certain way," Mucha explained. "I'm going to put this in the perspective of Putin, who worked in the KGB for 15 years before moving up in the political structure, and will try to determine how much and to what extent Putin's time in the KGB influences his decisions as president."
Mucha applied for the Levitt Fellowship upon the advice of government professor David Rivera, with whom he took "Politics of Russia and the CIS" course during the fall semester of his sophomore year. After taking this course, he became interested in Russian politics and particularly in Putin and combined this with his interest in the field of intelligence.
"I think the base of knowledge I received from Professor Rivera's class really instigated my interests, and I've learned about intelligence in other classes, so I merged the two topics, Mucha explained.
Regarding the nature of the fellowship, Mucha said: "It's been great, I've really enjoyed reading the literature involved, and this is a very self-motivated kind of job." He meets with his advisor, Rivera, about once a week for an hour, and devotes six hours a day to research in the library, an anomaly for such an outdoorsy person. Mucha spends much of his free time in the Adirondacks.
Following the 10 weeks of research included within the fellowship, Mucha plans to expand his project into a senior thesis, and he hopes to incorporate further discussion on Russian foreign policy, specifically Russian-American relations in the post 9/11 world.
After graduation next spring, Mucha plans to become an officer in the military or work for the government in some defense capacity, and ultimately hopes to enter into a career that will give him international experience.
To enhance student research around issues of public affairs, the Levitt Center funds student-faculty research through its Levitt Research Fellows Program. The program is open to all students who wish to spend the summer working in collaboration with a faculty member on an issue related to public affairs. Students receive a summer stipend and some expense money, and spend 10 weeks in the summer working intensively with a faculty mentor. Those selected for the program are required to provide a written assessment of their work at the completion of the summer, and also give a public presentation of their research findings to the Hamilton community, or local high school classes through the Levitt Scholars program.
-- by Katherine Trainor