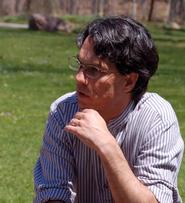 Plate Publishes Chapter in Encyclopedia of Religion in America
Visiting Associate Professor of Religious Studies S. Brent Plate recently published the chapter "Film" in the four-volume Encyclopedia of Religion in America, edited by Charles Lippy and Peter Williams (CQ Press/Sage Publications). The encyclopedia is a multidisciplinary examination of the role of religion in North American life.

Plate's contribution provides a historical and critical overview of religious film in the United States as well as the scholarly studies and religious authorities that examine these films. Also, Plate's book review of Fundamentalisms and the Media, edited by Stewart Hoover and Nadia Kaneva, was published in the August edition of Choice Reviews.