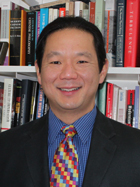 Study by Steven Yao Wins Book Award
Professor of English Steven Yao's book, Foreign Accents: Chinese American Verse from Exclusion to Postethnicity (Oxford 2010) has been selected by the Association for Asian American Studies for its Book Award in Literary Studies.
These awards are given to "titles of merit published in 2010." The Association for Asian American Studies was founded in 1979 for the purpose of advancing the highest professional standard of excellence in teaching and research in the field of Asian American Studies. Yao's book charts both a new method and a new archive for Asian American literary studies.