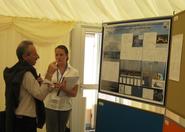 Allinger '11 Presents at International Antarctic Earth Sciences Symposium
Theresa Allinger '11, a geosciences major, presented a poster on her senior thesis research "Antarctic Deep Sea Corals as Paleoceanographic Proxies for Warm Water Upwelling" at the recent International Symposium on Antarctic Earth Sciences held at the University of Edinburgh. Her participation was supported by the J. W. Johnson Family Professorship stipend and the National Science Foundation through Eugene Domack, the J.W. Johnson Family Professor of Geosciences.
Allinger's work is significant in that it demonstrates how recent oceanographic changes taking place around Antarctica (upwelling of warm water) can be extended into the last 400 years by examination of the geochemistry of deep sea corals. It documents that the warm upwelling is a recent phenomena which began about AD 1920.