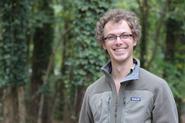 Winkelman Publishes Article on Jane Addams
An article by Visiting Assistant Professor of Government Joel Winkelman has been published in the current issue of The Review of Politics. His article, "A Working Democracy: Jane Addams on the Meaning of Work" examines the relationship between work and democracy in the political thought of the activist and reformer Jane Addams.
Winkelman shows that a particular understanding of the work ethic was central to Addams's vision of democracy, one that emphasized not only strong individual identities, but also cooperative communities, social solidarity and civic reciprocity. His article also suggests that Addams's thought could be applied to many contemporary political problems, and that today's democratic theory and practice would be enlivened by a renewed attention to labor and the workplace.