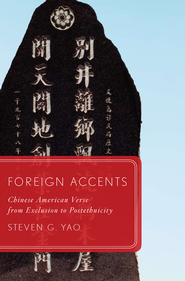 Yao Publishes Study of Chinese American Poetry
Associate Professor of English Steven Yao's book, Foreign Accents: Chinese American Verse from Exclusion to Postethnicity, has been published by Oxford University Press.

This study examines the various transpacific signifying strategies by which poets of Chinese descent in the U.S. have sought to represent cultural tradition in their articulations of an ethnic subjectivity, in Chinese as well as in English. In assessing both the dynamics and the politics of poetic expression by writers engaging with a specific cultural heritage, Foreign Accents develops a general theory of ethnic literary production that clarifies the significance of "Asian American" literature in relation to both other forms of U.S. "minority discourse," as well as canonical "American" literature more generally.