---



January 2012
From the Editor

- Maureen Scoones

Welcome back and Happy New Year! ITS is pleased to announce our brand new website as well as changes in our HillConnect environment. This issue also provides information for faculty using video in their courses, a plethora of tips & tricks, and the final installment of Dave Smallen's articles about IT at Hamilton. Best wishes for a great semester!

Google Reader and Themes Now Available in HillConnect

- Maureen Scoones

ITS is pleased to announce that the Google Reader service and Gmail Themes are now available in HillConnect. These features were requested by a number of people in the community and became a possibility after Google recently did some behind the scenes updates.

Google Themes

Click on the gear icon in the top right corner of the HillConnect screen.
Select Mail settings
Click on the Themes tab.
Select a theme that you like.

Google Reader

Click on the More >> button
Locate the Google Reader service.


Please contact the ITS Help Desk if you have any questions.
---
New ITS Website - Mike Sprague
ITS unveiled its new website on January 11, 2012. It includes an expanded search functionality, the ability to find help resources based on your current task, and the option to browse all resources based on topic. We again invite you to provide us feedback so we can continue to improve our site. You may do so via:
Feedback link on our new site
Add comments to our documents
Send us an e-mail
Attend a feedback session:

Wednesday, January 25, 4:10 - 5:10 p.m. - SCCT 3039
Thursday, January 26, 4:10 - 5:10 p.m. - KJ 202
Using Video in Courses - Nikki Reynolds
Do you use video as one of your teaching resources? Do you wish there was an easy way for students to access the videos outside of class?
Most faculty who use video in their teaching are familiar with the methods for requesting DVDs and VHS tapes for their own use, or for showings during class times. However, providing video for students to study outside of class is seen as more difficult to manage. ITS frequently gets requests to digitize VHS tapes and to stream the resulting file, or an existing DVD, through Blackboard for students to access at their convenience. After all, Netflix does it, why can't we?

We can't because copyright and intellectual property laws make it illegal, unless we are willing to pay some very high fees to the copyright holders. Netflix can afford to do this. They can charge their viewers (and they have millions of viewers) enough money to offset the copy permissions fees. Hamilton College can't duplicate that business model, so the Netflix approach won't work within our more constrained environment. So what can you, the faculty member, do to give your students more convenient and more frequent access to the course materials?
Have your students use Netflix
The Netflix approach will work well for commercially available videos. For a small monthly fee, which over the course of one semester will total far less than most textbooks, your student can access any videos s/he wants, using either a computer or a television. In fact, many of your students may already have Netflix accounts for their personal use - making the net cost to the student $0.
Have the campus Bookstore order DVDs for the students to purchase
This will likely be more expensive than Netflix, but may make some less popular titles more accessible to students. In any case, it will still not be more expensive than most textbooks, and while preserving the convenience of any time access.
Put the video on reserve in the Media Library
This method was once the only option available. Now, however, it is becoming the method of last resort. Even so, students still have a great deal of freedom in deciding when they will watch the video, and with whom. They have to watch it within the Media Library, but the facilities there are not so very different from watching on a computer.
As more methods for providing access to digital materials are developed, ITS and the Library will begin adopting and supporting those methods. For now, however, these are your best options for convenient student access.
Tips & Tricks - The Windows Key - Ryan Coyle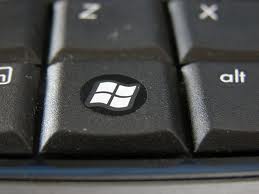 This month's tips are dedicated to our Windows fan base. If you're a Windows user, chances are there are 104 keys on your keyboard. One hundred and three of which you use more than the Windows key in the bottom left of your keyboard. Yes, that key that you probably annoying brush over every once in awhile and it pops up a start menu when you least want it. I'm here to tell you that the Windows key has some actual uses, besides you know, annoying you. Here are some time saving keyboard shortcuts to use with your Windows key. To execute them, make sure that you're holding down the Windows key in addition to the specified key, to get the effect. If you're using Windows on a Mac, the Windows key functionality is provide by the Command key.
Windows Key + E - This handy shortcut will launch an Explorer window. Very useful for browsing for files or searching a location for that file you lost.
Windows Key + D - This key combination will minimize all open windows and show your desktop. Hitting the key again will reopen your windows back to where they were.
Windows Key + F - This set will open the Find all files dialogue box. Using this box will allow to do a global search for files on your computer
Windows Key + M - This key combo will minimize all open windows
Windows Key + Shift + M - This key set will restore your minimized Windows to how they were before they were minimized
Windows Key + L - This combo will lock the computer, requiring a password to log back into when you come back. Very handy if you need to use the little persons room and don't want people snooping at your computer while you're gone.
Windows Key + R - This key set will open the Run dialogue box, allowing you to quickly launch command line commands.
And last but not least, Windows key + Tab - This key combo will provide a graphical scroll through your open programs. Similar to Alt + Tab but way fancier.
I hope these shortcuts save a few moments of time in your day.
Google Apps Tips & Tricks
- Maureen Scoones
If you still struggle with the concept of Google's conversations, this month's Tips and Tricks will help you better understand the options.
Web Editing Class Schedule

- Maureen Scoones
SiteManager classes and working sessions continue to be offered. Whether creating a page for your administrative office, academic department, student organization, or your own professional page, SiteManager, Hamilton's own web editing tool, can be used to create your web presence.
IT@Hamilton – The Future
- Dave Smallen
In celebration of Hamilton's bicentennial the College is creating a time capsule that will be opened a hundred years from now. It will contain artifacts from the current Hamilton, including a variety of technologies now in use. When previous time capsules were opened the contents were generally recognizable, even usable. Will anything we include now be usable then? What might the technology of 2112 look like?
In the February 2011 edition of this newsletter (https://www.hamilton.edu/its/its-newsletter-archive/february-2011), I attempted to predict which technologies that currently exist will be pervasive and offer the greatest possibility of change in the way Hamilton operates by 2032. The focus of the article was on mobility, accessibility, social networking, digital content and shared resources in the cloud.
Remembering that the computer itself is less than one hundred years old, there is no way to accurately predict which technologies will exist a hundred years from now but successful technologies will still need to satisfy basic human and institutional needs. Those needs include convenience, connectedness and efficiency.
Our lives will continue to become more complicated and any technology that enables us to simplify that complexity will be successful. The current focus on mobile devices (e.g., laptop computers, tablets, cell phones) is an example of how convenience is driving technology. Also, there will always be a tension between convenience and quality - some arguing that things that are convenient are of lower overall quality - but over time successful technologies will minimize that tension.
Developing and maintaining relationships of all types - with family, friends, and colleagues is a basic human need. In fact, it has been said that the key to student success at Hamilton is developing significant relationships with two or three friends and one or two faculty members. Technologies that help us meaningfully connect with other people will continue to be winners. Communication technologies such as e-mail, texting and social networking are current technologies that respond to that need.
Hamilton is an institution that focuses first on the quality of its program rather than its cost. A high quality and personal residential experience for students will continue to be expensive and accessible to most students only through the generosity of alumni and friends of the College. While cost is not the main driver of our program, technologies that enable us to maximize our institutional resources by enabling efficiencies will be essential for Hamilton to remain competitive for the best students and faculty. Technologies that enable self-service business models, such as on-line billing, registration and donations are examples of applications that enable Hamilton to operate more efficiently.
I haven't addressed the role of technologies in a Hamilton education. Will the notion of a residential liberal arts education for traditional-students become obsolete due to communication technologies and online offerings? Not likely. One hundred years from now small classes, intense interaction between students and faculty, and living and learning communities in a residential setting will still be at the core of the near-perfect learning environment that characterizes a Hamilton education. Communication technologies will make it possible to extend the experience of our students in a truly global fashion. Whatever the technologies-du jour, they will support this environment rather than replace it.
In 2112, when our time capsule is opened our current technologies will likely be unusable, but the principles on which they are based will continue to be convenient, connected and efficient.

back to top
---