Secure Wireless - Mac OS 10.5 & 10.6
---
Help Desk & Training Services
Hours:
M-F 8:30 a.m. - 4:30 p.m.
Sa-Su 10 a.m. - 10 p.m.
For Macintosh Laptops Only
NOTE: If you are not on the Hamilton campus please go through the step-by-step instructions until you come to the stop sign. Then when you arrive on campus you can complete the last few step to connect to our secure wireless network. If you are on campus please proceed through all the instructions in the document.
Configuration System Preferences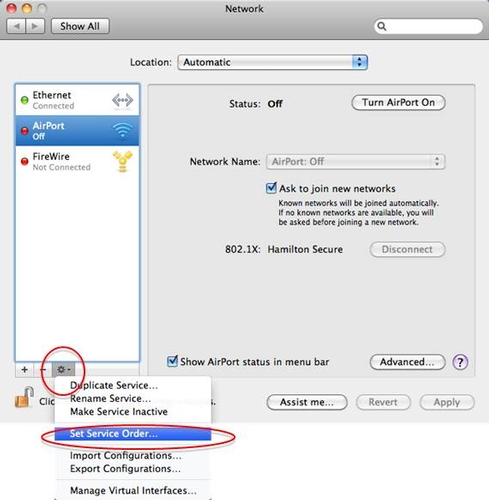 Click and drag AirPort to the top of the Service Order list. Click OK and then Apply.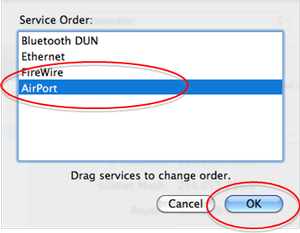 In the left column, click on Airport.
Click on Advanced.
Select 802.1x in the menu row.

Click on the + button in the bottom left corner and click Add User Profile to create a new profile. Name the profile Hamilton Secure.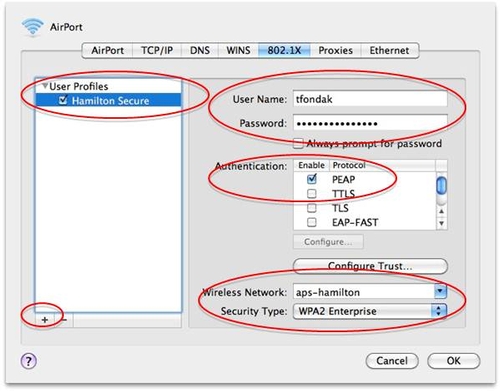 In the box labeled User Name: type your network ID (this is the same as your e-mail name (without @hamilton.edu).
In the box labeled Password: type in your network password (this is usually the same as your e-mail password).
In the box labeled Authentication: check the box to enable PEAP and UNCHECK TTLS
In the box labeled Wireless Network: type aps-hamilton.
In the box labeled Security Type: select WPA2 Enterprise
5. Select TCP/IP in the menu row.
For Configure IPv6, select Off. Click OK and then Apply.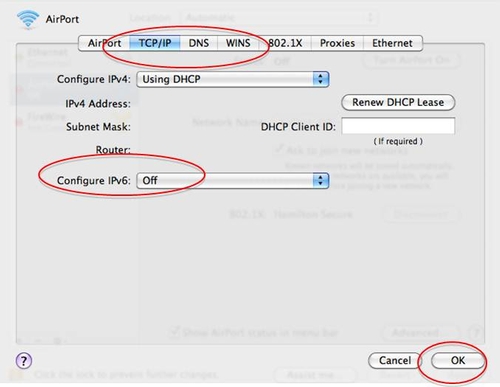 If AirPort is not already on, click the Turn AirPort On button.
Under Location, click on Automatic and select Edit Locations. NOTE: If your preference is locked (see the lock icon in the lower left corner), you must unlock it by clicking on it. The ID and password it requests are those that you enter when your first boot your computer.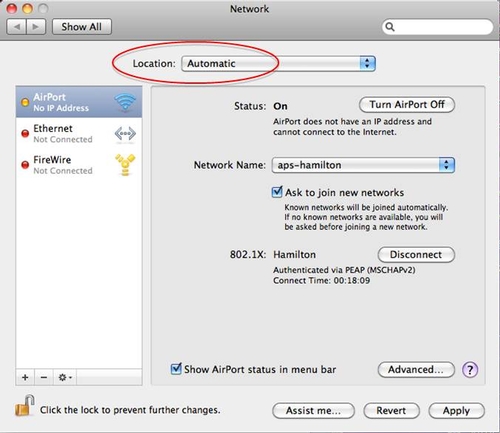 Click the plus (+)to create a new location and call it Hamilton. Then click Done.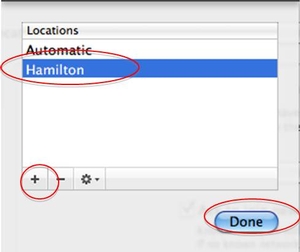 Under Location make sure it says Hamilton otherwise click the location and select Hamilton.
Click Advanced.
IMPORTANT NOTE: When using the location feature you will need to be mindful of your physical location. When you are at Hamilton College please use the location called Hamilton; otherwise, revert back to Automatic when physically off-campus with your laptop.
Select Airport in the menu row.
Click on the + icon to add a new Preferred Network.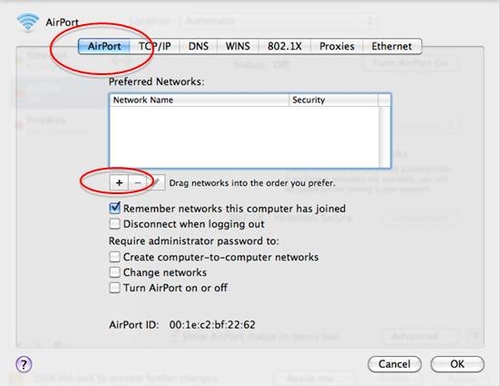 Type in the Network Name: aps-hamilton.
In the option labeled Security: select WPA2 Enterprise.
Type in your Hamilton Network user name & password in the appropriate fields. This is the user ID and password you use to access your ESS or SSS folders. It is often the same as your e-mail ID and password.
Select Hamilton Secure in 802.1x.
Click Add.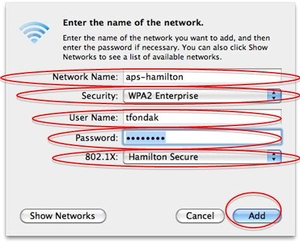 If you have more than one network listed in your Preferred Networks, click and drag aps-hamilton to the top of the Preferred Networks list.
Click OK.
Click Apply.
Close System Preferences.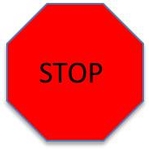 NOTE: If you are pre-configuring your laptop at home for the Hamilton wireless network please stop here, otherwise you can continue to step 13. When you arrive on campus turn on your computer and it will automatically attempt to connect to aps-hamilton (provided Airport is on). You should then be prompted to verify the security certificate for our secure network as shown below (starting with step 13). In the event you cannot connect to our wireless network while on campus, please contact the Help Desk for assistance at 315-859-4181.
If you are on campus, you should see a prompt to verify your Certificate. Please click on Show Certificate.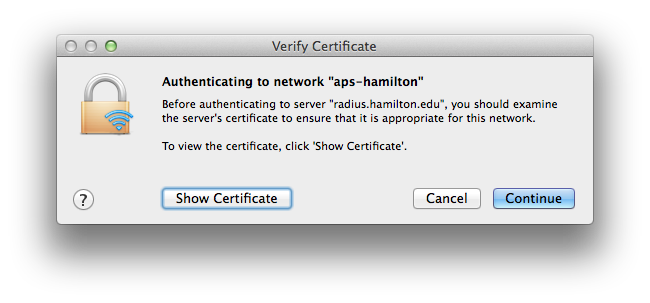 Check Always trust "radius.hamilton.edu".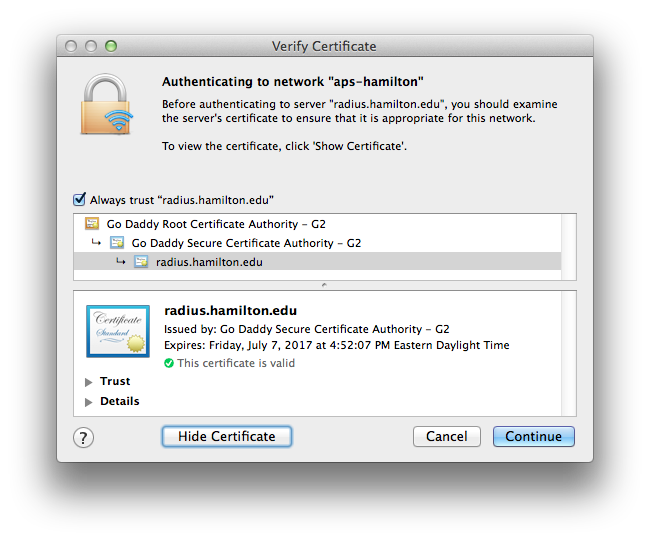 Click Continue.
Type your computer password if/when prompted. This is the password you normally enter when you first boot your computer.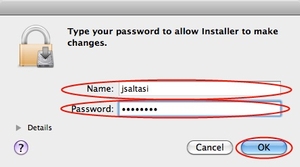 You are now connected to the secure wireless network.