Secure Wireless Setup - Windows 7
---
Help Desk & Training Services
Hours:
M-F 8:30 a.m. - 4:30 p.m.
Sa-Su 10 a.m. - 10 p.m.
For Personal Computers
To begin, left-click on the Wireless icon in the taskbar.

Select Open Network and Sharing Center in the menu that pops up.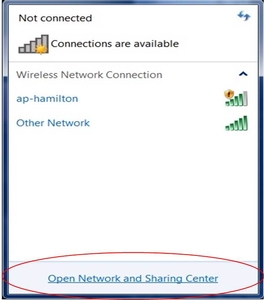 In the Network and Sharing Center, select Set up a new connection or network.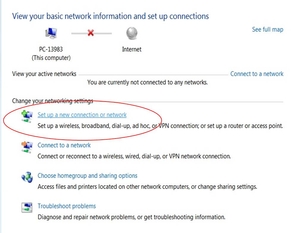 Select Manually Connect to a wireless network in the window that appears.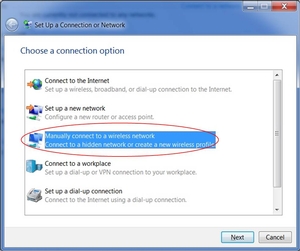 In the screen that appears, type aps-hamilton in the Network Name field and select WPA2-Enterprise and AES from the pull-down menus. When finished, left-click the Next button.
After you see Successfully added aps-hamilton, left-click Change Connection settings.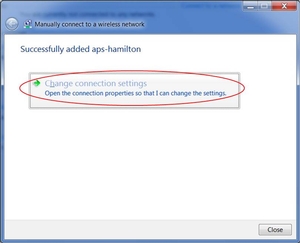 Ensure the two checkboxes labeled Connect Automatically when the network is in range and Connect even if the network is not broadcasting its name (SSID) are checked. Now click on the Security tab.
In the Security tab, check Remember my credentials for this connection each time I'm logged in.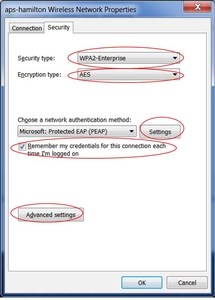 Click Advanced Settings.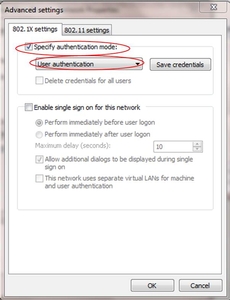 Check Specify Authentication Mode.
Select User Authenication in the pull-down menu.
Click OK.
Click on Settings next to "Microsoft: Protected EAP [PEAP]"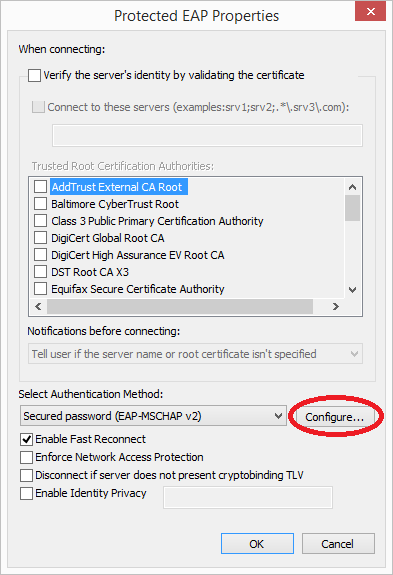 Finish by clicking Configure next to "Secured password [EAP-MSCHAP v2]"Uncheck "Automatically use my Windows logon name and password…" and click OK.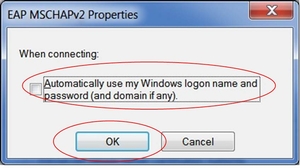 Click OK.
Also click OK in all remaining dialogue boxes.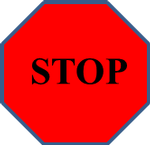 NOTE: If you are pre-configuring your laptop at home to prepare it for the Hamilton wireless network please stop here, otherwise you can continue to step 18. When you arrive on campus, your laptop should automatically attempt to connect to aps-hamilton. When it finds our network you will be prompted to log in using your Hamilton ID and your password as shown in steps 18-21 below. In the event you cannot connect to our wireless network while on campus, please contact the Help Desk for assistance at 315-859-4181.
You should notice a popup balloon in the lower-right hand corner that says "Additional information is required to connect to aps-hamilton." Left-click on this balloon. (The pop-up balloon may take a few minutes to show.)
If you are a student, please enter "HAMILTON-S\username" (replace "username" with your Hamilton username) in the first field and your password in the second. Faculty and Hamilton College Employees, please enter "HAMILTON-D\username" (replace "username" with your Hamilton username) in the first field and your password in the second.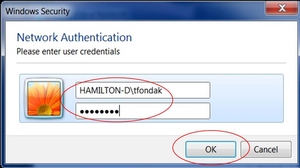 Left-click on OK when finished. If you see a warning message about a server certificate, click on the Connect option to finish the wireless setup.
You should now be connected to the internet.