Secure Wireless Setup - Windows Vista
---
Help Desk & Training Services
Hours:
M-F 8:30 a.m. - 4:30 p.m.
Sa-Su 10 a.m. - 10 p.m.
For Personal Computers
NOTE: If you are not on the Hamilton campus please go through the step-by-step instructions until you come to the stop sign. Then when you arrive on campus you can complete the last few step to connect to our secure wireless network. If you are on campus please proceed through all the instructions in the document.
Go to Start menu and open Control Panel.
Open Network Sharing Center.
On the left taskbar in the window that appears, select Manage Wireless Networks. Click Add.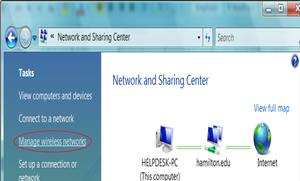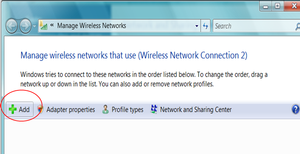 Click Manually Create a network profile.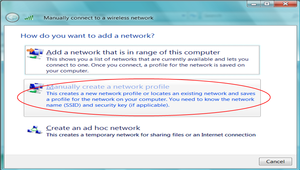 Now, enter the following information:

For Network name (SSID): type aps-hamilton
For Security type:, select WPA-Enterprise.
For Encryption Type:, select AES.
Check the box Connect even if this network is not broadcasting.

Click Next (see below).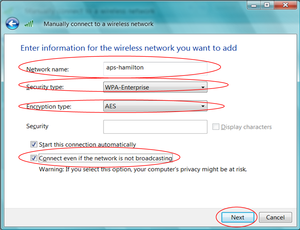 Select Change Connection Settings.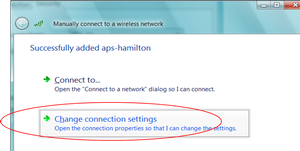 Click on the Security Tab.
Uncheck Cache user info.
Click Settings.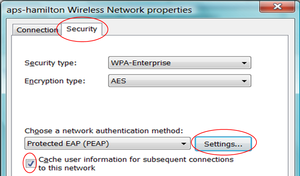 Uncheck Connect to servers
Click Configure.
Uncheck "Automatically use my windows logon name and password".
Click OK.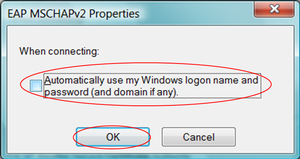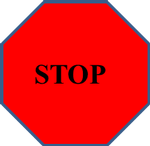 NOTE: If you are pre-configuring your laptop at home to prepare it for the Hamilton wireless network please stop here, otherwise you can continue to step 17. When you arrive on campus, your laptop should automatically attempt to connect to aps-hamilton. When it finds our network you will be prompted to log in using your Hamilton ID and your password as shown in steps 17-19 below. In the event you cannot connect to our wireless network while on campus, please contact the Help Desk for assistance at 315-859-4181.
Refresh network list and click on Wireless taskbar message to connect.

Enter your username, password, and domain (Hamilton-D for employees, Hamilton-s for students) and click OK.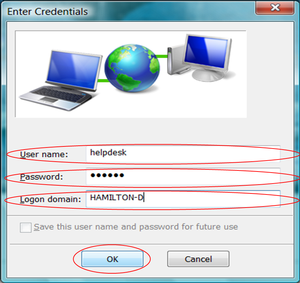 You should see a Wireless Taskbar message indicating that you are connected to the network.

Comments
Hello everyone,
If you could select Equifax, GeoTrust and GoDaddy instead of just Equifax, you will be more likely to be able to connect to the Internet.
Thanks, Riker
Thanks for the heads-up, Riker. I've modified the document to include the new certificates.
Hello Everyone,
Would it be possible to post a picture that has the check box next to "cache user information" unchecked because that is what the user should do? When quickly glancing at the pictures, it seems that the box should be checked.
Thanks, Riker
Comment Guidelines
Please log in to post a comment