From the Supportive Services Counselor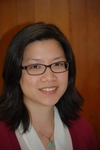 I am very excited to work with you as the next four years you spend on campus will be a great opportunity for you to explore who you are intellectually and socially.
Please use me as a resource to help navigate you through the exciting experiences and challenges that may come up while you are here.
Also, think of the Opportunity Programs as a place for you to ask questions, share ideas, express concerns, and give pieces of yourself.
It is my hope that each day on campus you feel engaged, connected to your professors and classmates, and ultimately enriched by the experiences that the Opportunity Programs office can share with you.

See you around campus!
Mrs. Murphy