Annual Giving
Why Give?

Why is my Parent Fund gift important?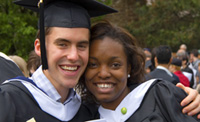 The College's educational mission is intimately connected with the world at large, and your contributions to Hamilton positively impact our society for generations to come. Your support for Hamilton sustains the College's ability to transform the lives of students.

Unrestricted Parent Fund gifts are especially valuable because they allow Hamilton to address immediate priorities and enhance programs not covered by the endowment or other sources of income. Without your generosity the lives of Hamilton students are diminished. With it almost anything is possible.

How will my gift make a difference?
Unrestricted gifts support the operating budget of the College and are put to use immediately. Their impact is magnified - a gift of $100 is equal to the revenue from a $2000 endowment. The gifts of alumni, parents and friends of Hamilton provide critical resources for scholarships, faculty salaries, academic programs, student services, athletic programs as well as co-curricular programming … and much more. An additional $138 million in endowment would be needed to generate the $6.9 million of support that Hamilton receives through alumni and parent gifts this year!
Related: