Share and Engage
Hamilton is always exploring new ways for community members to connect with one another. Below are a few recent and upcoming initiatives.
Connect, share and discuss all things Hamilton through our new social media directory. You'll find College departments, teams, alumni and student groups on Facebook, LinkedIn and Twitter.

The Scroll –
February 2013
With so many accounts to follow, it can be hard to stay up to date. A first of its kind, "The Scroll" was created by Hamilton's Communications and Web Services offices to aggregate moderated social media content in one location. Here you'll find a variety of social media updates from the Hamilton community, find others to follow and be able to share featured content via your own social media accounts.

My Hamilton Network –
Fall 2013
We know the value of personal connections. My Hamilton Alumni Network is a new-and-improved version of our alumni directory. It showcases personal alumni, parent, student and employee profiles, connections via social media groups and enhanced search functionality.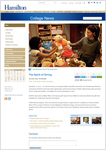 News Site with Enhanced Social Sharing and Commenting –
Summer 2013
Be a part of the conversation. With this added feature, readers will be able to easily share content in social networks and post their comments directly to the College's website after logging in with their Hamilton credentials.



Interactive Map –
Fall 2013
Members of the Hamilton community are everywhere. This interactive feature will highlight alumni, faculty and student experiences around the globe. Pulling together dynamic content, this map will provide a visual representation of our expansive network and showcase the impact our alumni and students are having on society.