September 2010

Butch Legacy, Custodian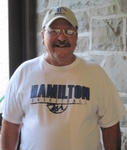 One of the first things you notice about Richard "Butch" Legacy is his ready smile. Perhaps that smile dates back to 1991, when Butch's work life changed in a big way. At the time, he was working construction and looking for a temporary position to take him through the winter layoff. Butch called Barbara Hess, in Personnel, every morning — at 9 a.m. sharp — hoping to be hired by Hamilton. His calls continued even after he received a letter stating that there were no current job openings. "I was bound and determined that I was going to get a job here, one way or another," he recalls.
After three weeks of daily phoning, Butch was hired for a temporary custodial job, which was expected to last one month. He started on February 4, 1991, and even now, nearly 20 years later, that date stands as Butch's date of hire. He's been a custodian at Hamilton ever since.
In 1998, Butch came to the Bundy Scott Field House, which remains his current assignment. His daily routine starts in the Sports Medicine Clinic, and then he moves to the main entry area and hallways. Butch then turns his attention to the field house floor, where he is careful not to interrupt the students. "It's their house; I'm just here to clean it," he says. Before taking his lunch break, Butch moves to the lower level of the building and the Squash Courts.
After lunch, Butch goes back into the Sports Medicine Clinic. "It gets a lot of use in the morning," he explains, so he tidies it up for the afternoon and evening. The rest of Butch's day is spent re-cleaning the entry areas and attending to detail work: dusting railings, faculty offices, etc.
According to Butch, the best part of his job is interacting with members of the Hamilton community. He greets coaches and athletes, as well as other employees and students who work in or use the facilities. Some of the athletes even call him "Butchy." Butch knows a lot of professors, and he says, "I've learned from them." He asks them questions and brings in objects for the scientists to identify. Butch also speaks highly of his colleagues on the custodial staff, noting how much he has learned from them over the years.
When asked to recall a memorable day at Hamilton, Butch doesn't hesitate: his first Commencement ceremony. He describes the thrill of the experience and notes that "everyone was dressed to the nines." Now, however, he says of Commencement, "It's kind of a sad thing, knowing that I won't see the students again. But it's fun to see these kids grow up, to become young adults when they leave. If I can make one student happy here, then I've done my job."
Butch, known by a childhood nickname that honors his father's memory, is married to Audrey Legacy, also a custodian at Hamilton, and they live in the nearby hamlet of Forge Hollow. He has two grown sons, both living locally, and five grandchildren. Butch says, "We have one granddaughter, age seven, and we kind of spoil her, as she's the only girl."
A life-long resident of the area, Butch maintains friendships with folks he's known for decades. In fact, it was a good friend, employed at Hamilton, who hand-delivered Butch's job application to Personnel all those years ago. Butch is a proud 48-year member of the Sons of the American Legion post in Oriskany Falls.
As for the future, Butch sees retirement coming within the next few years. But he won't miss the campus: "I'll come up and hang around, walk around the track, watch a football or soccer game. It'll be an opportunity to enjoy the experience and not have to rush to the next responsibility."
So before Butch takes that opportunity, stop by the field house and look him up. You won't have any trouble spotting him —he's usually dressed in Hamilton College athletics clothing — but you might find your conversation often interrupted as regulars to the building greet him with warmth. You won't mind, though, since just a few minutes' conversation with Butch is all it takes to see why he is so well liked by many here at Hamilton.